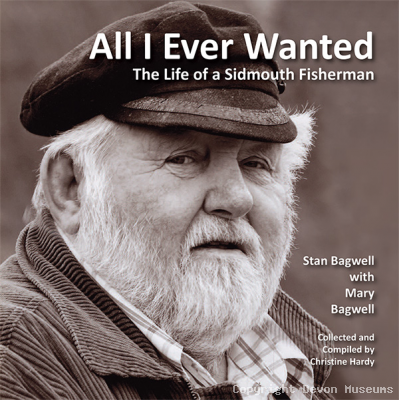 All I ever wanted
Price: £12.00
Stock: 5 available
The life of Sidmouth fisherman Stan Bagwell. Compiled by Christine Hardy, the book combines many photos of Stans boats and family with 75 years of fascinating stories of growing up in the town, his life at sea and Sidmouths fishing community. Produced in aid of the Fishermens Mission. 120pp 210x210mm paperback.
You might also be interested in?
Oil Paintings in Public Ownership in Devon

£11.50

Published by the Public Catalogue Foundation This beautifully produced art book brings together some 2,000 oil paintings from over 80 collections in Devon, including several from Sidmouth Museum as well as other museums in East Devon.

A Walk in the Byes, Sidmouth

£1.99

Prepared by Andrew Rugg-Gunn This is a walk through the green lungs of Sidmouth following the River Sid from Waterloo Bridge near the centre to Sidford's Packhorse Bridge.

Sidmouth Rocks

£2.99

An introduction to Sidmouth's geology - or why are Sidmouth's rocks red? Why do they appear to contain so few fossils and why do they form crumbling sea cliffs? What can we learn about Sidmouth's 'deep history' from looking at these rocks? This easy to read booklet by Roger Trend explains it all, then takes you on the gentle Sidmouth Geology Walk.