Churches of Topsham
When: 01 April 2017 to 31 October 2017
Where: Local History Room, Topsham Museum
Time: 1400 - 1700
Cost: None
Suitable for: Any age

Our main exhibition in 2017 will be "Churches of Topsham".
St. Nicholas celebrates its 150th Anniversary and as well as looking at noncomformist history and meeting places in Topsham we have invited both St. Margarets and Holy Cross to contribute to this exhibition.
A lunch-time lecture and other events will complement this event.
More details soon!
Exhibition Gallery
St. Nicholas, Topsham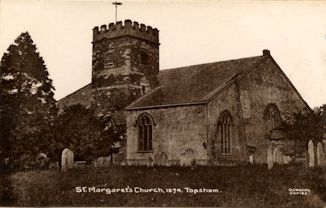 Topsham Museum Exhibitions & Projects
Thank you Miss Holman!

Topsham Museum

01 April 2017 to 30 April 2017

Churches of Topsham

Topsham Museum

01 April 2017 to 31 October 2017