Find out about: Finch Foundry
About Us
The last working water-powered forge in the country nestles in the middle of Stickelpath village on the edge of Dartmoor, near Okehampton. During lively demonstrations see and hear the large water wheel and tilt hammers in action. Demonstrations of the machinery every hour.

Discover life as an apprentice at the Foundry in the upper gallery and try and guess what all the different tools were used for in the Carpenters shop. Take a peek at Tom Pearse's summerhouse of Widecombe Fair fame (learn the rhyme too!).
Shop and tearoom.
Facilities
Shop and small tearoom on site. Shop sells a range of local arts and crafts items. The cafe serves hot and cold drinks, light lunches and afternoon cakes.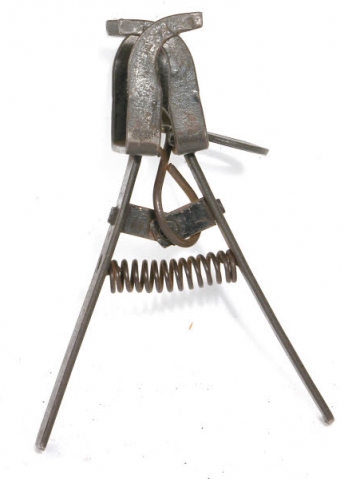 Mole trap
Spring-loaded, scissor-action mole trap, consists of two fork-like halves which are connected on a central pivot. A pressure ring is placed in the middle of the opened forks; when the mole disturbs the pressure ring while moving through its tunnel, the jaws snap shut, grasping the mole. The traps are set in mole run. They are made by a company called 'Defiance', and might have been bought for resale through Finch Foundry.
Click the button above to add this museum to your MyMuseum wish list. Once added you can choose to save this for future visits or email the Museum details to a friend.
Our Collections
The collection at Finch Foundry includes a wide variety of tools manufactured at the foundry during its history. It also includes items sold by the Finch Brothers which illustrates the diversity of their business. As a water powered working forge, the collection includes the machinery which can be seen in action during opening hours.

Admission & Prices
Adults: £5.00
Children: £2.50
National Trust members free

Open 16 March - 3 November, every day 11am-5pm.
Finch Foundry
Finch Foundry
Sticklepath
Okehampton, DEVON EX20 2NW