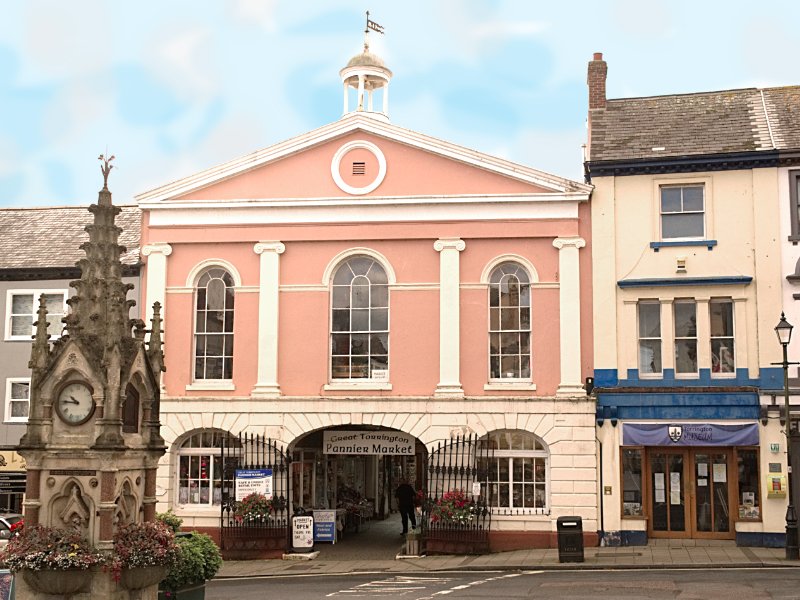 Great Torrington Heritage Museum and Archive
[CLOSED FOR WINTER] see Admission and Prices
Great Torrington Heritage Museum and Archive now has a new home, 14 South Street and The Market House, which is the pink, Grade 2* listed property, just above the Pannier Market. The Museum has a very extensive artefact collection, much of which is on display.
Those artefacts not on view can be seen catalogued on visual storage. We have items from gloving, blacksmiths, agriculture, printing, and WW2. Also on view are a number of items from our costume collection. This was all made possible due to a 'Start- up' grant from Leader 4, for which we are most grateful. Come and learn the history of Great Torrington. We very much look forward to welcoming you to our town museum.
The Forge

A selection of blacksmith's tools and implements recovered from a local village forge

Heating and Lighting

From a 17th century cast iron fireback to a 20th century gas iron - a series of items related to heating and lighting, especially featuring a locally made cloam oven, normally unseen since these structures are built into a fireplace.

Railway Transport

An exhibit of railway memorabilia related to the Torrington branch line, a victim of the Beeching axe!

Civil War display

Come and see our display of the Civil War in Torrington which too place on the 16th of February 1646
Admission & prices
THE MUSEUM IS NOW CLOSED FOR THE WINTER
We are undertaking some much needed restoration work. We hope to reopen in May 2018, the exact date is not clear yet, so please check back here closer to the time.

When our museum is open admission is free. If you can help, donations are always welcome and will go towards the museum restoration.
Find us
Information
If you require family history information, please send an email to:- torrington.museum@hotmail.co.uk with all your information, our archivist will contact you and try to help with your search.
Great Torrington Heritage Museum and Archive
14 South Street
Great Torrington
EX38 8AF

T: 01805 938008
E: torrington.museum@hotmail.co.uk
Great Torrington Heritage Museum and Archive
[CLOSED FOR WINTER] see Admission and Prices
Great Torrington Heritage Museum and Archive
14 South Street
Great Torrington, DEVON EX38 8AF