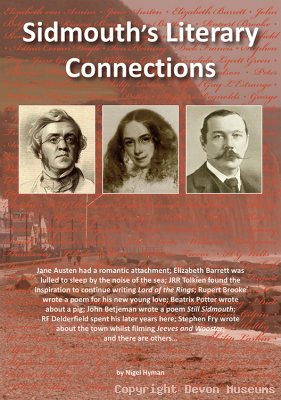 Sidmouth's Literary Connections
Price: £2.50
Stock: 100 available
By Nigel Hyman
Jane Austen had a romantic attachment; Elizabeth Barrett was lulled to sleep by the noise of the sea; JRR Tolkien found the inspiration to continue writing Lord of the Rings; Rupert Brooke wrote a poem for his new young love; Beatrix Potter wrote about a pig; John Betjeman wrote a poem Still Sidmouth; RF Delderfield spent his later years here; Stephen Fry wrote about the town whilst filming Jeeves and Wooster;
and there are others…
Published 2016. 48pp A5 softback.
You might also be interested in?
Sidmouth Rocks

£2.99

An introduction to Sidmouth's geology - or why are Sidmouth's rocks red? Why do they appear to contain so few fossils and why do they form crumbling sea cliffs? What can we learn about Sidmouth's 'deep history' from looking at these rocks? This easy to read booklet by Roger Trend explains it all, then takes you on the gentle Sidmouth Geology Walk.

Long Picture Postcards

£2.50

Reproduced from a hand-coloured print of the panoramic picture in Sidmouth Museum.