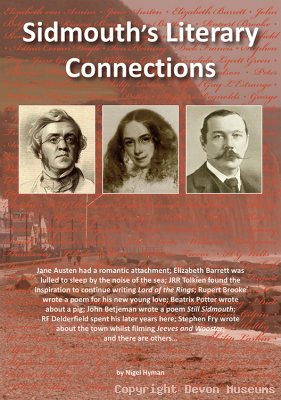 Sidmouth's Literary Connections
Price: £2.50
Stock: 100 available
By Nigel Hyman
Jane Austen had a romantic attachment; Elizabeth Barrett was lulled to sleep by the noise of the sea; JRR Tolkien found the inspiration to continue writing Lord of the Rings; Rupert Brooke wrote a poem for his new young love; Beatrix Potter wrote about a pig; John Betjeman wrote a poem Still Sidmouth; RF Delderfield spent his later years here; Stephen Fry wrote about the town whilst filming Jeeves and Wooster;
and there are others…
Published 2016. 48pp A5 softback.
You might also be interested in?
Around and About Sidbury and Sidmouth, the Sid Valley, Core Copse, East Hill Strips and Farway Hill

£3.99

Ordnance Survey Yellow Walk Map 1:16,000 Water resistant.

Oil Paintings in Public Ownership in Devon

£11.50

Published by the Public Catalogue Foundation This beautifully produced art book brings together some 2,000 oil paintings from over 80 collections in Devon, including several from Sidmouth Museum as well as other museums in East Devon.