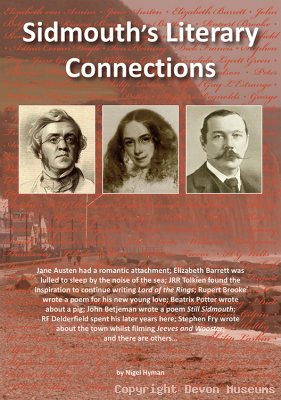 Sidmouth's Literary Connections
Price: £2.50
Stock: 100 available
By Nigel Hyman
Jane Austen had a romantic attachment; Elizabeth Barrett was lulled to sleep by the noise of the sea; JRR Tolkien found the inspiration to continue writing Lord of the Rings; Rupert Brooke wrote a poem for his new young love; Beatrix Potter wrote about a pig; John Betjeman wrote a poem Still Sidmouth; RF Delderfield spent his later years here; Stephen Fry wrote about the town whilst filming Jeeves and Wooster;
and there are others…
Published 2016. 48pp A5 softback.
You might also be interested in?
History of the Office of Prime Minister

£3.60

Illustrated playing cards Meet the movers and shakers, the warmongers and peacemakers, the great and the weak, who held this office as it developed over three centuries of war, strife, political change and social turmoil.

The Sampson Heritage Trail

£1.99

Prepared by Sylvia Brownlee A guided tour of some of the properties designed by R W Sampson - the man responsible for much of the architectural layout of Sidmouth in the early 20th century.