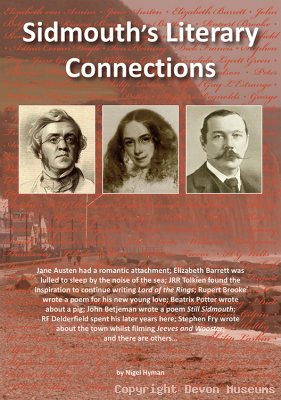 Sidmouth's Literary Connections
Price: £2.50
Stock: 100 available
By Nigel Hyman
Jane Austen had a romantic attachment; Elizabeth Barrett was lulled to sleep by the noise of the sea; JRR Tolkien found the inspiration to continue writing Lord of the Rings; Rupert Brooke wrote a poem for his new young love; Beatrix Potter wrote about a pig; John Betjeman wrote a poem Still Sidmouth; RF Delderfield spent his later years here; Stephen Fry wrote about the town whilst filming Jeeves and Wooster;
and there are others…
Published 2016. 48pp A5 softback.
You might also be interested in?
A guide to common fossils

£5.00

By Chris and Helen Pellant A guide to identifying 71 common fossils with photos and descriptions.

Sid Vale Calendar 2018

£5.00

Full colour A4 calendar with photographs of Sidmouth and the Sid Vale and space for appointments etc.