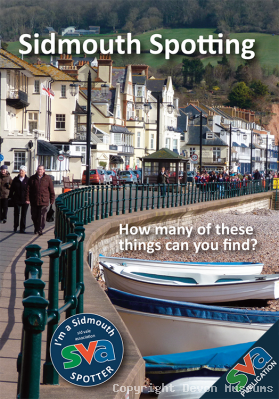 Sidmouth Spotting
Price: £2.50
Stock: 100 available
A fun book for children. Lots of interesting things to spot in the town, the sea and the sky in Sidmouth. And when youve spotted enough you can collect your Sidmouth Spotter badge.
Published 2017 36pp A6 softback
You might also be interested in?
A Walk around the East of Sidmouth

£1.99

Prepared by Andrew Rugg-Gunn This guide will help you to see much of beautiful Sidmouth - architecture, gardens and views.

The Jurassic Coast Illustrated

£4.99

by Robert Westwood An illustrated guide to the geology of locations along East Devon's and Dorset's World Heritage coast.