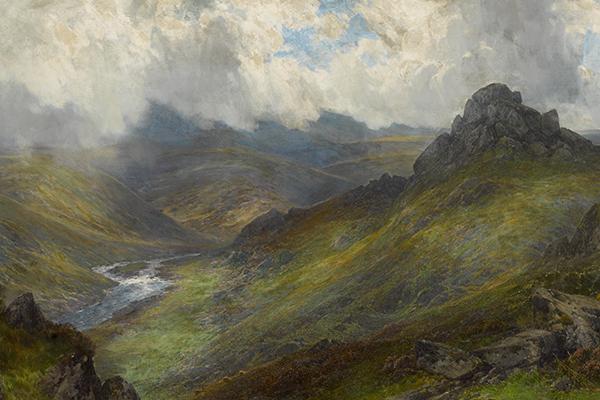 Dartmoor: A Wild and Wondrous Region
When: 22 December 2017 to 01 April 2018
Where: RAMM
Time: 10am - 5PM
Suitable for: Any age

Dartmoor has inspired generations of artists. This exhibition traces the story of Dartmoor, once described as a 'dreary mountainous tract' and later as the epitome of the picturesque. This transformation was largely brought about through the imagination of artists such as JMW Turner, Thomas Rowlandson and Samuel Palmer.
The coming of the railways brought greater numbers of tourists to Exeter and Dartmoor. Locally based artists such as William and FJ Widgery catered for this market and made Dartmoor landscape art immensely popular. Artists' interpretations of Dartmoor on railway posters and postcards contributed to this tourist trade.
The artists in the exhibition have depicted the moor using a wide range of media including oil paintings, watercolours, engravings and early photographs. Works from RAMM's collections are displayed alongside loans from British museums and galleries as well as rarely seen works from private collections.
Dartmoor: A Wild and Wondrous Region is a partnership with Dartmoor National Park Authority, and forms one of the main public outcomes of the Heritage Lottery Fund Landscape Partnership-funded Moor than meets the eye project. The exhibition is sponsored by Dartmoor Preservation Association, Tozers Solicitors and Hawksmoor Investment Management.
Royal Albert Memorial Museum and Art Gallery Exhibitions & Projects
The Lost Words

Royal Albert Memorial Museum and Art Gallery

19 October 2019 to 12 January 2020

Sea Gardens

Royal Albert Memorial Museum and Art Gallery

16 November 2019 to 26 January 2020

A lightdark sea garden: seaweed pressings and prints by Jo Crook

Royal Albert Memorial Museum and Art Gallery

20 October 2019 to 27 January 2020

Exeter's Fine Art Collection: A Sense of Place

Royal Albert Memorial Museum and Art Gallery

18 June 2019 to 15 March 2020