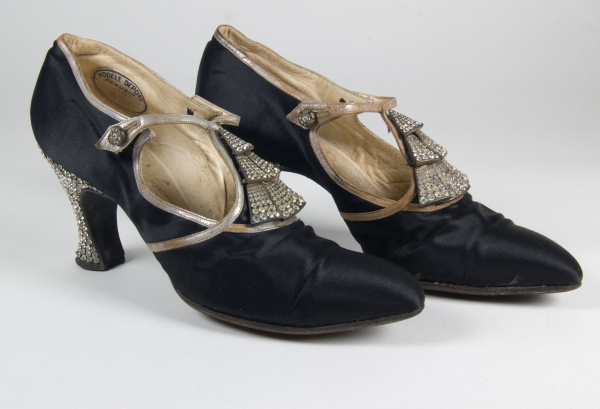 Delve a little deeper with RAMM's new half day courses
By: Sophie Harbour
Added: 11 September 2019
RAMM has launched a new and exciting programme of half-day courses. They have been designed to allow visitors to get closer to the amazing objects and artefacts in RAMM's spectacular collections.

Have you ever wondered about hat etiquette or what sort of shoe was worn in the eighteenth century? Would you like to know more about RAMM's hidden people and discover more about their stories? From uncovering recent archaeological findings in Exeter to the glittering secrets behind the work of Exeter's goldsmith Richard Hilliard, there is something for everyone in this eclectic mix of Saturday afternoon sessions.

Fabulous fashion courses

The courses start on Saturday 12 October with a look at how boots and shoes were made, sold and advertised in the 18th, 19th and 20th centuries. Well Heeled is a chance to discover the intriguing stories behind some of the shoes' owners from textiles and dress specialist Shelley Tobin. Shelley is a dress historian, an author and the curator of RAMM's extensive costume and textile collection. Shelley also curates the costume collection for the National Trust at Killerton House. She has over 25 years experience documenting, researching and taking costume to new audiences. Marvellous Millinery (Hats) follows on 9 Nov and Small waists and full skirts (1820's fashion) on 18 Jan.

Fine Art courses

Join award-winning art historian Dr Jan Cox on a Grand Tour of Europe. Take a closer look at some of the wonderful art that originated from painters who travelled to classical and 'exotic' locations in an age before photography, picturing them for a British audience. Jan tutors at both Oxford and Cambridge University (ICE). The course will examine the oils, watercolours and drawings by Joseph Wright, Francis Towne, and Thomas Patch, and the stories behind their artistic odysseys. The fascinating afternoon session is directly linked to the artworks currently on display as part of our 'Sense of Place' exhibition which is showcasing important works from RAMM's fine art collection.

Recent discoveries and human remains

Other half day courses coming up later in the year include a session aimed at uncovering some of Exeter's latest exciting archaeological discoveries, delivered by RAMM's archaeology curator Thomas Cadbury. A fascinating exploration of the secrets behind RAMM's Hidden People, taught by human palaeopathologist Dr Belinda Tibbetts. This session will focus on the types of material derived from the human body that are often included in various museum displays, as well as the ethics, relevance, and value of human remains held in collections worldwide.

Courses in 2020: silver, fashion, art and lace

Looking further ahead to 2020….. RAMM's decorative arts curator Sally Ayres will look at a range of silver objects from the time of the Tudors to those made in the splendour of Exeter's 'Golden Age'. There is a second chance to join the Grand Tour in February and finally, in association with 'By Royal Appointment', a lace exhibition planned to take place in February, RAMM is offering two lace-focused courses. The fascinating story of lace is followed by a session focused specifically on Devon lace. Both lace courses will be taught by Carol McFadzean and Elizabeth Trebble who are lace practitioners and teachers of international standing.

How to book

Booking is now available for all RAMM's new half day courses.

For more information please go to: http://bit.ly/RAMMShortCourses or phone 01392 265858 (10am Tues to 5pm Sun).
Royal Albert Memorial Museum and Art Gallery news
Royal Albert Memorial Museum and Art Gallery

Royal Albert Memorial Museum and Art Gallery

Royal Albert Memorial Museum and Art Gallery

Royal Albert Memorial Museum and Art Gallery

Royal Albert Memorial Museum and Art Gallery

Royal Albert Memorial Museum and Art Gallery

Royal Albert Memorial Museum and Art Gallery

Royal Albert Memorial Museum and Art Gallery

Royal Albert Memorial Museum and Art Gallery

Royal Albert Memorial Museum and Art Gallery