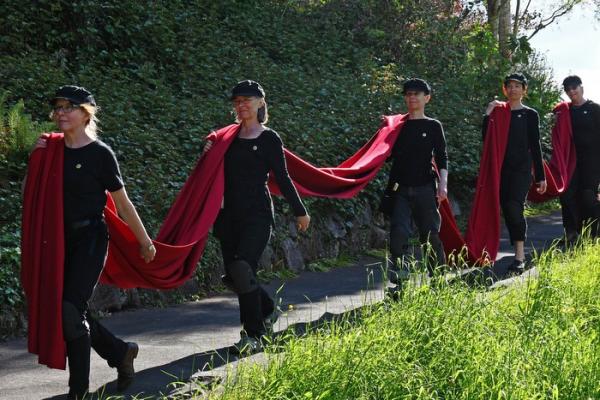 When: 15 February 2020 to 29 March 2020
Where: The Royal Albert Memorial Museum & Art Gallery
Time: 10.00 - 17.00
Cost: free
Suitable for: Any age

Focused on Exeter's historic wool trade, Preston Street Union have been investigating the flow of people, artefacts and ideas that have enabled the city to prosper.
At the height of the wool industry, traders wrapped lengths of fabric for export in elaborate parcels known as tillets. The tillets were decorated with ornate, specially commissioned prints, which acted as a branding device. While some of these sizeable wooden printing blocks can be seen in the RAMM collection, no known examples of complete tillet wrappers have survived, and so their construction and use is a matter of some speculation.
Working with the RAMM Collections and new research gathered by local historian Dr. Michael A Patrick, Preston Street have re-imagined a tillet wrapper marked with a collectively created contemporary design that draws attention to the creative industries. The block from which the design is printed has been carved using traditional techniques by Saena Ku. The wrapper encloses a 15-metre length of red woollen cloth that was previously used by Preston Street Union in the work SERGE/SURGE, a series of live actions around Exeter's city wall in 2019, commissioned by RAMM.
A paper print of the design will be distributed throughout Exeter and beyond in a contemporary act of trade and distribution, inviting reflection on the theme of migration.
Making History gallery.
Image: Jon England.
Exhibitions & Projects
Brian Rice: 60 years of Paintings and Prints

Royal Albert Memorial Museum and Art Gallery

24 January 2020 to 03 May 2020

A different story: an exhibition of photographs

Royal Albert Memorial Museum and Art Gallery

11 February 2020 to 17 May 2020

CLAWS! A Human History of Cats

Torquay Museum

15 February 2020 to 30 May 2020

By Royal Appointment: Devon Lace makers

Royal Albert Memorial Museum and Art Gallery

08 February 2020 to 31 May 2020

Museum Closed

Teign Heritage Centre Home to Teignmouth and Shaldon Museum

19 March 2020 to 31 May 2020

Naomi Frears The Importance of Sleeves

Royal Albert Memorial Museum and Art Gallery

25 April 2020 to 28 June 2020

What Do You Collect A common thread

Royal Albert Memorial Museum and Art Gallery

24 March 2020 to 28 June 2020

Shots taken: books, bars and beyond

Royal Albert Memorial Museum and Art Gallery

19 May 2020 to 05 July 2020

The Secret Museum

Torquay Museum

20 June 2020 to 05 September 2020

What Do You Collect Absolutely Bagulous

Royal Albert Memorial Museum and Art Gallery

09 July 2020 to 06 October 2020