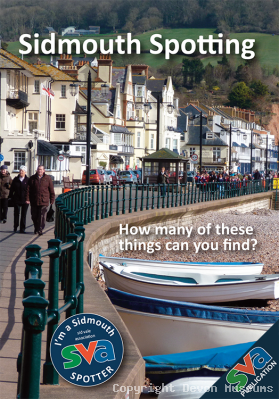 Sidmouth Spotting
Price: £2.50
Stock: 100 available
A fun book for children. Lots of interesting things to spot in the town, the sea and the sky in Sidmouth. And when youve spotted enough you can collect your Sidmouth Spotter badge.
Published 2017 36pp A6 softback
You might also be interested in?
The Story of Sidmouths Long Print

£5.00

by local historian Julia Creeke This lavishly illustrated book charts the fascinating story and history of the famous Panorama Print of Sidmouth's Seafront and the families associated with the print over 200 years.

The Natural History of the Sid Valley through the seasons

£3.50

by Louise Woolley An introduction to some of the plants and animals that are present in the Sid Valley.