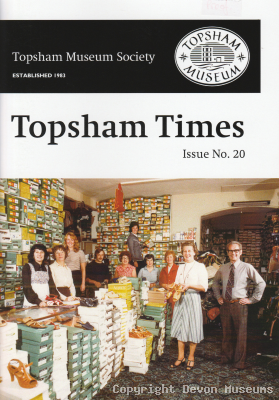 Topsham Times, Issue 20, 2017
Price: £2.50
Stock: 23 available
Topsham Times is the Journal of the Topsham Museum Society.

Summary of contents: Where in Topsham was HMS Terror built?, Henry James Fishleigh DSM, The Last Cobbler in Town (Underhills), A Brief History of Topsham Rifle Range.
You might also be interested in?
Topsham Remembered

£5.00

Topsham Museum's latest book is now on sale, and is inciting a lot of interest.

The Early Families of 25, Strand

£2.50

A history of the home of Topsham Museum - the development of the building, the stories of the families who lived there and its place in the history of Topsham.