Find out about: Bovey Tracey Heritage Centre
About Us
The Bovey Tracey Heritage Centre is situated in the Old Bovey Station building, which was in use for rail passenger traffic for nearly 100 years.
The Centre is run entirely by volunteers and is funded by grants, donations, bequests, sales and local fund raising events.

The Heritage Centre will reopen on Saturday 5 th of April, and will close at the end of October 2014.
Parking and Entry are FREE.

If you have any queries please contact the secretary on 01626 834331, or by post to, The Bovey Tracey Heritage Centre, St Johns lane, Bovey Tracey, Devon. TQ139YJ or Email, bovey@devonmuseums.net
Facilities
Books, cards, notelets, pictures, plants, etc. for sale.
Our Next Event
Reopening of Bovey Tracey Heritage Centre
When: 05 April 2014 to 01 November 2014
Where: The Old Railway Station, St Johns Lane, Bovey Tracey, TQ13 9YJ
The Bovey Tracey Heritage Centre will re-open on Saturday 5th April 2014. The new season's exhibition will feature WW1 exhibits and photographs. Opening times will be daily 10am - 4pm Monday to Friday and Saturdays from 10am to 12noon. Private Groups are welcome but booking beforehand is essential especially if refreshments are required. School visits must also be booked beforehand.
The Centre will close at the end of season on 1st November, 2014.
ADMISSION IS FREE
Click the button above to add this museum to your MyMuseum wish list. Once added you can choose to save this for future visits or email the Museum details to a friend.
Our Collections
The exhibits in 2013 will include Local Pottery,
Agriculture, Granite Working & Farmhouse Kitchen items, and Candy Tiles Fireplces.

Other exhibits will be based on local artifacts concerning trade, industry such as pottery, agriculture, mining and the Moretonhampstead branch railway line.

The following pictures show some of our permanent and external exhibits.

The Toad GWR brake van contains a model of the Moretonhampstead station. But its opening times will be depenent on availability of volunteers.
Reversible Balance Plough
This plough is made to be reversible, this means that at the end of a furrow the plough can be tipped over to use the upper plough unit to contact the grounnd and work across the field ploughing in the opposite direction, thus saving the time taken by ordinary plough in turning.
Model of Bovey Tracey Railway Model
There are two 00 gauge models of stations on display. There is a model of Bovey Station as it was just before the Moretonhampstead line was closed; it is in the main room of the original station building. There is also a model of the line's terminus at Moretonhampstead Station, at about the same time. This is housed in the GWR "Toad" brake van No 114906 which is on display in the station forecourt. Access to the brake van is by request at present and depends on the availability of staff.
Reopening Saturday Fifth of April 2014 at 10.00 am.
GWR Brake Van
Brake van installed in the car park at the Heritage Centre. Great Western Railway, twenty ton, 'Toad' brake van, number W114906, manufactured at Swindon in the early 1930's, has found a new home after about 55 years working and 25 years in semi-retirement.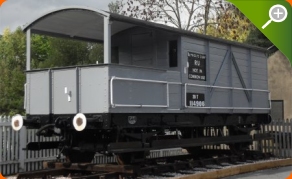 Remains of Salt Glaze Pottery Kiln.
The remains of a Salt Glaze Pottery Kiln, dating from about 1760. The kiln was discovered at Fore Street Bovey Tracey in 1932, with several unfinished and kiln-damaged salt-glazed pots. The kiln has now been moved from Heathfield Candy Tile Works to Bovey Tracey Heritage Centre.

Our Latest news
How to get to Bovey Tracey Heritage Centre

26 July 2011

How to get to The Bovey Tracey Heritage Centre. Tourist Direction Brown Signs have been in...read more

News about Collection Item 01 Introduction

30 June 2011

Please Click on Picture., ...read more
Admission & Prices
FREE ADMISSION AND PARKING
Donations Welcome.

We are open at the following times, until the end of October 2014.

Mon - Fri: 10.00 -16.00 (10 am - 4 pm)
Sat: 10.00- 12.00 (10 am - 12.00, noon)
Sun: Closed.
Opening will be dependent on the availability of volunteer stewards.

MEMBERSHIP
Costs of membership of the Bovey Tracey Heritage Trust are:-
INDIVIDUAL MEMBERSHIP £8.00 per annum.
SENIOR CITIZEN or under 16 £5.00 per annum.
JOINT MEMBERSHIP £12.00 per annum.
JOINT MEMBERSHIP, Senior,
both partners over 60 years old. £8.00 per annum.
Find us


Click on the map above to view the Museum location in Google Maps
Bovey Tracey is on the A382 road.

Turn from Station road into St Johns lane, at the far end look for signs to Heritage Centre, The Old Station is on your left. At end of lane turn left twice

OUR NEWS PAGE GIVES ADDITIONAL INFO. ON HOW TO GET TO US

Get in touch

Bovey Tracey Heritage Trust
The Old Railway Station
St John's Lane
Bovey Tracey
BOVEY TRACEY
TQ13 9GP

T: 01626-834331
E: bovey@devonmuseums.net
W: www.devonmuseums.net/bovey

Museums nearby

1. Newton Abbot Town and GWR Museum
(Distance: 1 to 5 miles)



Other information

Visits by groups can be arranged at times other than those above.
With refreshments if required.

Please advise us of the name of the group, the date and time of the proposed visit, and the number of people expected in the group.

School visits are welcome, Teachers, please contact the secretary for details.

Please allow a reasonable time for arrangements to be made.

Contact the secretary on 01626 834331, Email bovey@devonmuseums.net or by post to the Old Station address above.

Charity Number 1063070.
Bovey Tracey Heritage Centre
Bovey Tracey Heritage Trust
The Old Railway Station
St John's Lane
Bovey Tracey
BOVEY TRACEY, DEVON TQ13 9GP