Find out about: Dawlish Museum
About Us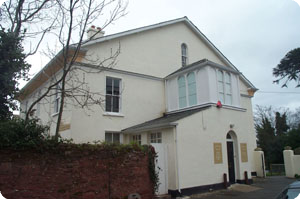 Knowle House was built as a gentleman's residence in 1805, and has been used for various purposes since. It now houses Dawlish Museum.

The aim of the Museum is to preserve and display the history of Dawlish through it's artefacts, which have been generously donated by local people.
Facilities
Open from 30 April to 30th September. Wheelchair access to Ground Floor. Stairlift to First Floor and wheelchair available.
Our Next Event
Dawlish Christmas Market
When: 08 December 2013
Where: The Strand Dawlish
Dawlish Museum will be having a stall at the annual Christmas Market on the Strand on Sunday, December 8th. We shall be selling our acclaimed decorated glassware as well as other items. We are hoping for a good attendance and lots of buying so that we can add more to the museum funds.
Click the button above to add this museum to your MyMuseum wish list. Once added you can choose to save this for future visits or email the Museum details to a friend.
Our Collections
The Museum is housed in The Knowle which was built in 1805 as a gentleman's residence. There is a tribute to Piper Bill Millin, who passed away in August 2010, featuring his famous D-Day bagpipes and regalia, but also highlights Bill, the family man.

Also new this year is a display of "All about Dawlish" with floor to ceiling maps, photographs of Then and Now, plus items on the Carnival, Violets and the Black (and white) Swan.

Victorian Kitchen, Industries Room and Commemorative china displays

Our Latest news
DAWLISH MUSEUM WINS LOTTERY SUPPORT

03 December 2013

Dawlish Museum is delighted to be able to issue the following press release. This support ...read more

Westpoint Christmas Shopping Fair

01 December 2013

Some weary ladies made their way home tonight after finishing manning the Museum Glassware...read more
Admission & Prices
THE MUSEUM IS NOW CLOSED FOR THE WINTER WHILE WORK IS COMPLETED ON CHANGING AND UPGRADING THE EXHIBITIONS READY FOR 2014.

Usual opening times
Wed - Fri 10-3 to 1700
Sat - Sun: 14.00-17.00
Last admissions 16.15
Adults £2
Concessions £1
Family (2+2) £5
Get in touch

Dawlish Museum Society
The Knowle
Barton Terrace
DAWLISH
EX7 9QH

T: 01626 888557
E: dawlish@devonmuseums.net
W: http://plus.google.com/111576882271535917555

Museums nearby

1. Teign Heritage Centre Home to Teignmouth and Shaldon Museum
(Distance: 1 to 5 miles)

2. Newton Abbot Town and GWR Museum
(Distance: 5 to 10 miles)



Other information

School parties are encouraged to visit by appointment, and a learning room is now complete. There is a huge collection of photographs of old Dawlish and it's people, so if you're researching your family history, or that of your business or home, there may be something for you here.

If you simply want to browse for an hour or two, do visit. If you fancy a rest, or want to eat your sandwiches, there is a pretty little garden.

There is something to interest almost everyone at Dawlish Museum, and you can be assured of a warm welcome from the volunteer staff.
BILL11
Dawlish Museum
Dawlish Museum Society
The Knowle
Barton Terrace
DAWLISH, DEVON EX7 9QH