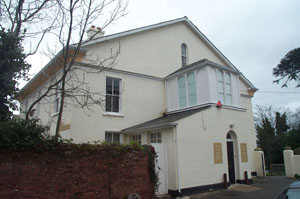 Dawlish Museum
With 11 rooms over 3 floors the museum is most famous for its display of Piper Bill Millins' D-Day bagpipes. The displays in Dawlish Museum are regularly updated and depict life past and present in the town and notably tell the story of the February storm of 2014 which severely damaged the railway line.
A vast archive of 100's of rare historical photographs can be seen in both album form or on the new library P.C. Children as well as adults are well catered for and there are many fun activities just for them such as the dressing up outfits and the Black Swan Trail. The Museum is entirely run by volunteers, is self funding and recently proudly gained official accreditation.
Great Storm Display

This photo shows the 'Orange Army' under attack from the huge waves during the storm of 2014. The Great Storm exhibition has rolling video telling the story of the storm and it's aftermath and has been updated to include even more photos,media articles and memorabilia.

Industries Room

This room contains the tools of many local trades and services. There is a wonderful collection of sewing machines, such as the Jones dating from 1879. This photo shows the fire cart and equipment but here you will also find the camera collection and other displays.

Library

Piper Bill Millin, who piped the troops ashore on Sword Beach , D-Day 1944. The library also houses a huge collection of old and new photos of Dawlish in both album form and on computer archive to be leisurely browsed, as well as looped video about the life of Piper Bill.

Top Floor ,1940's Shop

On the very top floor you will find a wonderful recreation of a 1940's style shop selling everything you could possibly need for the wartime family. Alongside is the evacuees room where the new arrival from London is unpacking her suitcase as she moves into her temporary new home.

Bygone Kitchen

This beautifully re-created bygone kitchen displays all the mod cons of a former age, including a black leaded kitchen range and many other artefacts. Some of which you may even recognise from your own grandmothers kitchen !
Admission & prices
THE MUSEUM IS NOW CLOSED UNTIL THE 1ST MAY, 2016 , EXCEPT BY PRIOR APPOINTMENT.
PLEASE RING FOR MORE DETAILS.

Usual opening times
Wed - Fri 10-30am to 1700pm
Sat - Sun: 14.00pm to 17.00pm
Last admission 16.15pm

ENTRY PRICES
Adults - £2
Concessions - £1
Family Ticket (2 adults + 2 children) only £5
and valid for a full 7 days with Free return entry.
Find us
Museum news
Thanks to volunteer Jacqueline Wright for raffling a few of the discontinued glassware lines, to raise money for the Museum ,at this mornings boot sale in Newton Abbot......

A big thanks to local resident and author, Colin Marsden, who presented the Museum with a copy of his latest book for use in our reference library at the Museum......
Information
Wheelchair access to Ground Floor. Stairlift to First Floor and wheelchair available.
There is also a pleasant garden.
Many thanks to our generous sponsors who include - Ashcombe village club, BG Wills & son, Barton Surgery, Be Repaired, Cofton Country, Crockers Ltd, Dawlish Gazette, Fraser & Wheeler, Freemasons, Gays Creamery, Langstone Cliff, Mercedes Benz Exeter, Shaftesbury Theatre, Swiftprint, The Beeches, The Framing Lot, Ugly Duckling and Whetmans Pinks.
Dawlish Museum Society
The Knowle
Barton Terrace
DAWLISH
EX7 9QH

T: 01626 888557
E: info@dawlishmuseum.co.uk
Our videos
Click on the play button below to view our videos
Interview with Piper Bill Millin
The interview gave Piper Bill a chance to describe the happenings at Sword Beach during the D Day Landings
Name
Time
1
Interview with Piper Bill Millin - Part 1
3:33
2
Interview with Piper Bill Millin - part 2
3:57
3
interview with Piper Bill Millin - Part 3
4:11
4
interview with Piper Bill Millin - Part 4
3:30
Dawlish Museum
Dawlish Museum Society
The Knowle
Barton Terrace
DAWLISH, DEVON EX7 9QH