Find out about: Dawlish Museum
About Us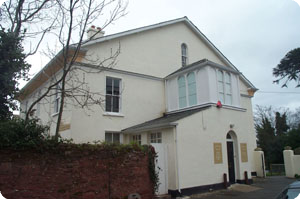 With 11 rooms over 3 floors the museum is most famous for its display of Piper Bill Millins D-Day bagpipes. The displays in Dawlish Museum are regularly updated and depict life past and present in the town and notably tell the story of the February storm of 2014 which severely damaged the railway line. A vast archive of 100's of rare historical photographs can be seen in both album form or on the new library P.C.
Children as well as adults are well catered for and there are many fun activities just for them such as the dressing up outfits and the Black Swan Trail. The Museum is entirely run by volunteers, is self funding and recently proudly gained official accreditation.
Facilities
Wheelchair access to Ground Floor. Stairlift to First Floor and wheelchair available.
There is also a pleasant garden.
Library
The bagpipes and regalia of Piper Bill Millin, who piped the troops ashore on Sword Beach , D-Day 1944. The library houses a huge collection of old and new photos of Dawlish in both album form and on computer archive, as well as looped video about the life of Piper Bill.
Click the button above to add this museum to your MyMuseum wish list. Once added you can choose to save this for future visits or email the Museum details to a friend.
Our Collections
The Museum is housed in The Knowle , built in 1805 as a gentleman's residence.There is a tribute to Piper Bill Millin, who passed away August 2010, featuring his famous D-Day bagpipes and regalia, but also highlights Bill the family man.
New and updated for 2015 is an acclaimed exhibition of the February storm of 2014 which caused such severe damage to the railway. There is also a tribute to Dr Lovely who once lived and practiced in the Knowle itself many years ago Other displays include a Victorian Kitchen,the Industries Room, Commemorative china displays, dolls and many more.

Our Latest news
Front Page News !

06 February 2015

The Museums grant towards reducing energy costs is already being put to good use as prepar...read more

Grant Awarded

28 January 2015

Great News !Many thanks to Dawlish Town Council who have awarded the museum £750 tow...read more
Admission & Prices
THE MUSEUM IS TEMPORARILY CLOSED AND WILL RE-OPEN FOR THE NEW SEASON ON FRIDAY 1ST MAY,2015.

Usual opening times
Wed - Fri 10-30am to 1700pm
Sat - Sun: 14.00pm to 17.00pm
Last admission 16.15pm

ENTRY PRICES
Adults - £2
Concessions - £1
Family Ticket (2 adults + 2 children) only £5
and valid for a full 7 days with Free return entry.
Get in touch

Dawlish Museum Society
The Knowle
Barton Terrace
DAWLISH
EX7 9QH

T: 01626 888557
E: info@dawlishmuseum.co.uk
W: Devonmuseums.net/dawlishmuseum

Museums nearby

1. Teign Heritage Centre Home to Teignmouth and Shaldon Museum
(Distance: 1 to 5 miles)

2. Newton Abbot Town and GWR Museum
(Distance: 5 to 10 miles)



Other information

An excellently equipped education room is readily available and school parties are welcome to visit by prior appointment. There is a huge collection of photographs of old Dawlish and it's people, so if you're researching your family history, or that of your business or home, the Museum is well worth a visit to chat to our friendly staff.

If you simply want to browse for an hour or two the Museum is one of the must sees in Dawlish. If you fancy a break to eat your sandwiches there is a pretty little courtyard garden available.

There is something to interest almost everyone at Dawlish Museum, and you are always assured of a warm welcome from our friendly volunteers.
Dawlish Museum
Dawlish Museum Society
The Knowle
Barton Terrace
DAWLISH, DEVON EX7 9QH