Find out about: Dawlish Museum
About Us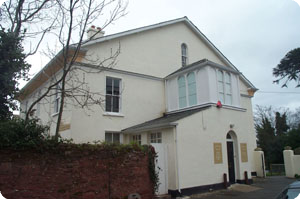 The displays in Dawlish Museum are changed regularly and aim to represent life past and present in the town, for example the acclaimed display of the February storms which severely damaged the railway.
Children as well as adults are catered for and there are activities especially for them.
The museum is run by volunteers and is self funding. The artifacts have to be kept to the same standard as those in the British Museum - running costs are therefore high. Some businesses are now providing sponsorship.
There is now a resource for the town in the library. images of the town have been collected and digitized so the public may view them on a screen and even search for a specific place.
Facilities
Wheelchair access to Ground Floor. Stairlift to First Floor and wheelchair available.
There is also a pleasant garden.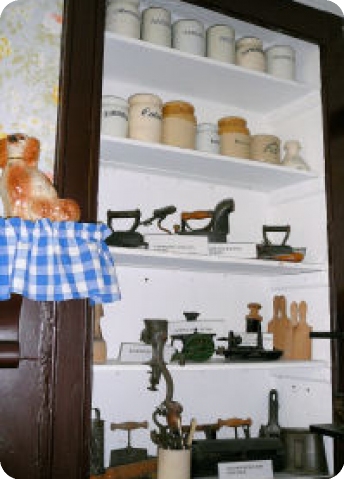 Bygone Kitchen
This beautifully re-created bygone kitchen displays all the mod cons of a former age, including a black leaded kitchen range and many artefacts, some of which you may recognise from your own grandma's kitchen.
Click the button above to add this museum to your MyMuseum wish list. Once added you can choose to save this for future visits or email the Museum details to a friend.
Our Collections
The Museum is housed in The Knowle which was built in 1805 as a gentleman's residence. There is a tribute to Piper Bill Millin, who passed away in August 2010, featuring his famous D-Day bagpipes and regalia, but also highlights Bill, the family man.
New for 2014 is an acclaimed exhibition of the happenings of the February storms which caused such severe damage to the railway. there is also a tribute exhibition to Dr Lovely who once lived and practiced in the Knowle.
Other displays include a Victorian Kitchen,the Industries Room, Commemorative china displays and dolls and other toys.

Our Latest news
Dawlish Museum in the news again

19 July 2014

A big thank you to Mark Carne for the excellent framed montage he presented to the museum....read more

WHAT A SPECIAL DAY!

30 April 2014

Dawlish museum was re-opened for the 2014 season on Saturday, April 26th., As 2014 is the ...read more
Admission & Prices
THE MUSEUM IS NOW CLOSED FOR THE 2014 SEASON

Usual opening times
Wed - Fri 10-30am to 1700pm
Sat - Sun: 14.00pm to 17.00pm
Last admissions 16.15pm
Adults £2
Concessions £1
Family Ticket (2 adults + 2 children) £5 and may be reused during the 7 days following issue.
Get in touch

Dawlish Museum Society
The Knowle
Barton Terrace
DAWLISH
EX7 9QH

T: 01626 888557
E: dawlish@devonmuseums.net
W: Devonmuseums.net/dawlishmuseum

Museums nearby

1. Teign Heritage Centre Home to Teignmouth and Shaldon Museum
(Distance: 1 to 5 miles)

2. Newton Abbot Town and GWR Museum
(Distance: 5 to 10 miles)



Other information

School parties are encouraged to visit by appointment, and a learning room is now complete. There is a huge collection of photographs of old Dawlish and it's people, so if you're researching your family history, or that of your business or home, there may be something for you here.

If you simply want to browse for an hour or two, do visit. If you fancy a rest, or want to eat your sandwiches, there is a pretty little garden.

There is something to interest almost everyone at Dawlish Museum, and you can be assured of a warm welcome from the volunteer staff.
Dawlish Museum
Dawlish Museum Society
The Knowle
Barton Terrace
DAWLISH, DEVON EX7 9QH