Find out about: Dawlish Museum
About Us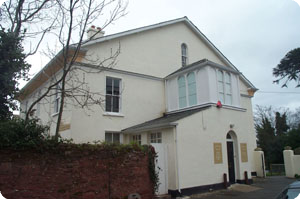 With 11 rooms over 3 floors the museum is most famous for its display of Piper Bill Millins D-Day bagpipes. The displays in Dawlish Museum are regularly updated and depict life past and present in the town and notably tell the story of the February storm of 2014 which severely damaged the railway line. A vast archive of 100's of rare historical photographs can be seen in both album form or on the new library P.C.
Children as well as adults are well catered for and there are many fun activities just for them such as the dressing up outfits and the Black Swan Trail. The Museum is entirely run by volunteers, is self funding and recently proudly gained official accreditation.
Facilities
Wheelchair access to Ground Floor. Stairlift to First Floor and wheelchair available.
There is also a pleasant garden.
Top Floor ,1940's Shop
On the very top floor you will find a wonderful recreation of a 1940's style shop selling everything you could possibly need for the wartime family. Alongside is the evacuees room where the new arrival from London is unpacking her suitcase as she moves into her temporary new home.
Click the button above to add this museum to your MyMuseum wish list. Once added you can choose to save this for future visits or email the Museum details to a friend.
Our Collections
Updated for 2015 is an acclaimed exhibition of the February storm of 2014 which caused such severe damage to the railway.Also a tribute to Dr Lovely who once lived and practiced in the Knowle itself. Other displays include a Victorian Kitchen,the Industries Room,china displays,dolls and more.There is a new tribute board to our sponsors who include Ashcombe Village Club,Barton Surgery, BG Wills,BeRepaired,Cofton Ctry,Crockers,The Gazette,Fraser&Wheeler,Freemasons,Gays Creamery,Langstone Cliff,Mercedes Exeter,Shaftesbury Theatre,Swiftprint,The Beeches,Framing Lot,Ugly Duckling and Whetman Pinks.

Our Latest news
Lets all go down The Strand !

23 May 2015

Thanks to everyone who helped out on the Museums stall today at the 'Dawlish Celebrates' f...read more

Dawlish Celebrates !

20 May 2015

This Saturday the 23rd May the museum shall be attending the 'Dawlish Celebrates' event . ...read more
Admission & Prices
THE MUSEUM IS NOW OPEN FOR THE NEW SEASON FROM 1ST MAY TO THE END OF SEPTEMBER.

Usual opening times
Wed - Fri 10-30am to 1700pm
Sat - Sun: 14.00pm to 17.00pm
Last admission 16.15pm

ENTRY PRICES
Adults - £2
Concessions - £1
Family Ticket (2 adults + 2 children) only £5
and valid for a full 7 days with Free return entry.
Get in touch

Dawlish Museum Society
The Knowle
Barton Terrace
DAWLISH
EX7 9QH

T: 01626 888557
E: info@dawlishmuseum.co.uk
W: Devonmuseums.net/dawlishmuseum

Museums nearby

1. Teign Heritage Centre Home to Teignmouth and Shaldon Museum
(Distance: 1 to 5 miles)

2. Newton Abbot Town and GWR Museum
(Distance: 5 to 10 miles)



Other information

Many thanks to our generous sponsors who include - Ashcombe village club, BG Wills & son, Barton Surgery, Be Repaired, Cofton Country, Crockers Ltd, Dawlish Gazette, Fraser & Wheeler, Freemasons, Gays Creamery, Langstone Cliff, Mercedes Benz Exeter, Shaftesbury Theatre, Swiftprint, The Beeches, The Framing Lot, Ugly Duckling and Whetmans Pinks.
Dawlish Museum
Dawlish Museum Society
The Knowle
Barton Terrace
DAWLISH, DEVON EX7 9QH