Find out about: Fairlynch Museum
About Us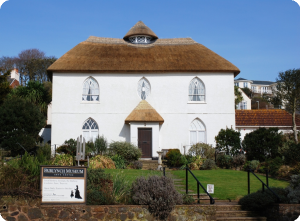 Fairlynch Museum and Arts Centre is one of the very few thatched museums in the UK. The building, a typical example of a 'marine cottage orné' and Grade II listed, dates from 1811.

The museum opened in 1967. It aims, for educational and general interest, to exhibit artefacts and information about the history and development of Budleigh Salterton and the Lower Otter Valley.

The Museum is noted for its collection of period costumes, its many geological specimens and its excellent local history resources.

Find us at facebook.com/Fairlynch to see our history in full.
Our Next Event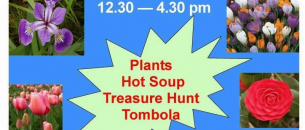 2015 Spring Opening
When: 04 April 2015
Where: Fairlynch Museum
Looking for bargain plants for the garden? Come to Fairlynch Museum's big garden plant sale. Hot soup available. A treasure hunt for the kids. A tombola with great prizes. Come and admire Budleigh Salterton Venture Art Club's version of Millais' famous painting 'The Boyhood of Raleigh.' And Sir Walter Ralegh himself will be there, played by professional storyteller Steve Manning.
Click the button above to add this museum to your MyMuseum wish list. Once added you can choose to save this for future visits or email the Museum details to a friend.
Our Collections
The Museum holds approximately 4,000 items of men's, women's and children's clothing including rare pieces dating as far back as the early 1700s.

On show is Honiton lace and other types of lace from this country and the Continent.

The Geological collections feature the remarkable nodules, or small mineral clusters found in the cliffs.

The Archaeology section includes artefacts from the Bronze Age as well as items from Roman sites.

In the local history room you will find numerous albums containing information on all aspects of life in Budleigh Salterton through the ages.

Our Latest news
Our museum needs a fridge

01 April 2015

Our Museum needs a fridge! Click on the image to make it bigger., ...read more

Aspects of Fairlynch: 2 Costumes

01 April 2015

In the second of a series of posters illustrating different aspects of Fairlynch Museum we...read more
Admission & Prices
Opening Times Tuesday to Sunday: 14.00 -16.30 (closed Mondays ex Bank Holidays)

The Museum is now closed. It will re-open on Friday 3 April until the end of September. It will be open during October half-term 2015.

ADMISSION FREE
Donations gratefully received.

Groups welcome, special rates only if booked in advance.

The Carter Reference Library (in the museum) is open by appointment.
Get in touch

Fairlynch Museum
27 Fore Street
Budleigh Salterton
EX9 6NP

T: 01395 442666
E: admin@fairlynchmuseum.co.uk
W: http://devonmuseums.net/fairlynch

Museums nearby

1. Exmouth Museum
(Distance: 5 to 10 miles)

2. Sidmouth Museum
(Distance: 5 to 10 miles)

3. Topsham Museum
(Distance: 5 to 10 miles)

Other information

Public car parks nearby, limited parking at museum for disabled visitors by prior arrangement. Level access from Fore Street Hill. Wheelchair access to ground floor only.

Fairlynch is an educational charity run by volunteers and mainly dependent on voluntary contributions and the fund-raising efforts of The Friends of Fairlynch. To join the Friends, please click on Our Downloads section on this site.

Fairlynch Museum's press officer Michael Downes runs a blog at http://budleighbrewsterunited.blogspot.com/ which he describes as "a sort of museum in cyberspace full of odds and ends about life in Budleigh Salterton."

It celebrates among other things the connection between our corner of East Devon - birthplace of both Sir Walter Raleigh and Roger Conant, founder of Salem, Massachusetts - and the United States of America.

It was inspired by the friendship link established in 2001 with the Cape Cod community of Brewster.
Fairlynch Museum
Fairlynch Museum
27 Fore Street
Budleigh Salterton, DEVON EX9 6NP