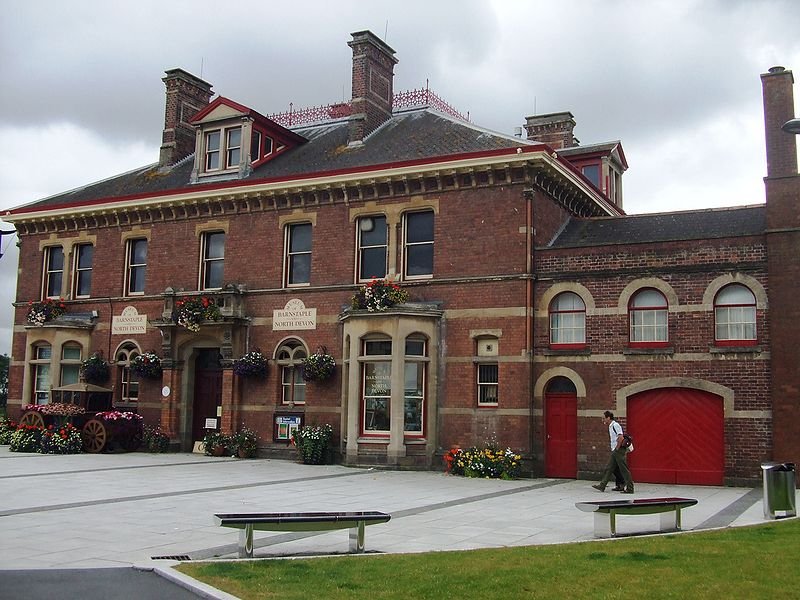 The Museum of Barnstaple and North Devon
The Museum of Barnstaple and North Devon is the perfect way to find out more about North Devon. Our collections and displays cover the natural and human history of this beautiful part of the country.
Highlights of the Museum include the Tarka Gallery, the Story of North Devon and the Regimental Collection of the Royal Devon Yeomanry. The entrance to the museum includes a Gift Shop, Tea Room, Tourist Information and Visitor Reception.
The Tarka Gallery

Follow the otter's trail from river to sea, find out how you can help to encourage wild creatures into your garden, discover the local Culm Grassland areas or just take a look at animals, birds and insects close-up.

The Undersea World

The Undersea World includes turtles, fish and marine mammals from North Devon's coast and looks at the marine environment of this wonderful region. Beneath the ocean we reveal the underwater life of the turtles, dolphins, gulls, porpoises and ganets.

North Devon Art Pottery

The museum is home to the largest public collection of North Devon Art Pottery. Building on the established tradition of sgraffito decoration, the three potters Brannam, Lauder and Baron produced some very distinctive work.

Shapland & Petter Furniture

The Shapland & Petter collection is based on the archive and furniture donated by the company and is gradually being built up. We are always interested to hear from anyone who has items of furniture we could record for the archive.

Geology, archaeology and pre-history

Discover the how our ancestors lived in Devon, Through amazing objects like the whale bone fishing spear from Westward Ho! this gallery will let you in on the pre-historic secrets hidden in our landscape.
Admission & prices
Admission FREE

Opening Times
Winter (from Monday 2nd November 2016 until Monday 27th March 2017)
Monday - Saturday: 10.00 - 16.00
Tea Room - 10am - 3.30pm
Sunday: Closed

Summer (from Monday 27th March until Saturday 31st October 2017)
Monday - Saturday: 10.00 - 17.00
Tea Room - 10am - 4pm
Sunday: Closed

Christmas Closing - the Museum will be closing at 2pm on Thursday 24th December 2017 and open again from 10am on Tuesday 2nd January 2018.
Find us
Museum, Tourist Information, Tea Room and shop situated in red-brick Victorian building on town-side of the old stone bridge.

3 minute walk from Bus Station, 8 minute walk from Train Station. Public car parking at Belle Meadow, a 3 minutute walk.
Museum news
Due to our new redevelopment the North Devon Photographic Competition unfortunately will not be running until 2019......

Our Summer Ticket Giveaway continues and this week we have an amazing prize......
Information
Toilet with Baby Changing facility. Ground floor wheelchair accessable with stairlift to 1st floor galleries. Gift Shop, Tea Room and Tourist Information. We do bookings for National Express Coach Tickets.
Apart for the Christmas/New Year week and Sundays, we are open throughout the year, including Bank Holidays. There is full wheelchair access to the ground floor and a stairlift to the first floor displays. We offer an object identification service and particularly welcome reports of archaeological finds in northern Devon. A different Kid's Quiz each month and FREE PLAY activities in the summer holidays and all the half-terms - usually Wednesdays and Saturdays, details can be found on this website.

We also have a new Tea Room serving speciality coffees and teas, a delicious selection of homemade cakes and Devonshire cream teas. Cold drinks and ice creams available too. The Tea Room is open from 10am to 4pm in the summer and 10am to 3.30pm in the winter.
Museum of Barnstaple & North Devon
The Square
Barnstaple
EX32 8LN

T: 01271 346747
E: museum@northdevon.gov.uk
Our videos
Click on the play button below to view our videos
Upcoming events
26 October 2017

Museum of Barnstaple and North Devon
The Museum of Barnstaple and North Devon
Museum of Barnstaple & North Devon
The Square
Barnstaple, DEVON EX32 8LN