Find out about: The Museum of Barnstaple and North Devon
About Us
The Museum of Barnstaple and North Devon is the perfect way to find out more about North Devon. Our collections and displays cover the natural and human history of this beautiful part of the country. Highlights of the Museum include the Tarka Gallery, the Story of North Devon and the Regimental Collection of the Royal Devon Yeomanry.

The entrance to the museum includes a Gift Shop, Tea Room, Tourist Information and Visitor Reception.
Facilities
Toilet with Baby Changing facility. Ground floor wheelchair accessable with stairlift to 1st floor galleries. Gift Shop, Tea Room and Tourist Information
Exhibitions and Projects
Our Next Event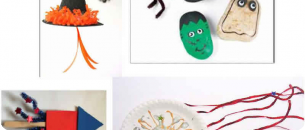 Spooky PLAY Day
When: 29 October 2014
Where: Museum of Barnstaple & North Devon
Come and have creative fun on our Spooky PLAY Day with Master Nathan and Mistress Nicole from the popular Trepanning Through History team!
Our FREE drop-in PLAY day on Wednesday 29th October 2014 will have you making a Witche's hat Pinata, your own pebble Monsters in a box, or design your very own decorated fireworks with lots of sparkle and glitter.
Why not help us to draw the Museum at Night with all of its Spooks, Whitches and Monsters!
Bring the family and drop-in between 11am and 4pm. You'll have a creepy good time...!
Our Collections
The Museum holds the collections of the North Devon Athenaeum and the old Barnstaple Town Museum, and uses them in exciting and innovative ways to tell the fascinating story of this beautiful part of Devon.

As well as social history, the museum holds archaeology, natural history, and decorative arts collections covering the whole of North Devon.

Our Latest news
Museum building work about to start

25 September 2014

Maintenance works at the Museum of Barnstaple and North Devon start next week (Monday 29 S...read more

Results for the Adult classes of the North Devon Heritage Photographic Competition 2013

10 December 2013

The Museum received many entries for its annual North Devon Heritage Photographic Competit...read more
Museum Videos
Mr David Morrish

Colin Allbrook and Alan Dodd

The Olympic Torch in Barnstaple

Ingrid Allen talks about The Queens Theatre

Amba and Alec Oakley Remembering the Queens Hall/Queens Theatre
Admission & Prices
Admission FREE

Opening Times
Winter (from Monday 3rd November 2014 until Saturday 14th March 2015)
Monday - Saturday: 10.00 - 16.00
Tea Room - 10am - 3.30pm
Sunday: Closed

Christmas Closing - the Museum will be closing at 2pm on Wednesday 24th December 2014 and open again from 10am on Friday 2nd January 2015

Summer (from Monday 24th March until Saturday 1st November 2014)
Monday - Saturday: 10.00 - 17.00
Tea Room - 10am - 4pm
Sunday: Closed
Find us


Click on the map above to view the Museum location in Google Maps
Museum, Tourist Information, Tea Room and shop situated in red-brick Victorian building on town-side of the old stone bridge.

3 minute walk from Bus Station, 8 minute walk from Train Station. Public car parking at Belle Meadow, a 3 minutute walk.

Get in touch

Museum of Barnstaple & North Devon
The Square
Barnstaple
EX32 8LN

T: 01271 346747
E: museum@northdevon.gov.uk
W: http://www.barnstaplemuseum.org.uk

Nearby Attractions


1. Barnstaple Heritage Centre

2. Barnstaple Local Studies Library

3. Barnstaple's historic Pannier Market


Other information

Apart for the Christmas/New Year week and Sundays, we are open throughout the year, including Bank Holidays. There is full wheelchair access to the ground floor and a stairlift to the first floor displays. We offer an object identification service and particularly welcome reports of archaeological finds in northern Devon. A different Kid's Quiz each month and FREE PLAY activities in the summer holidays and all the half-terms - usually Wednesdays and Saturdays, details can be found on this website.

We also have a new Tea Room serving speciality coffees and teas, a delicious selection of homemade cakes and Devonshire cream teas. Cold drinks and ice creams available too. The Tea Room is open from 10am to 4pm in the summer and 10am to 3.30pm in the winter.
Click the button above to add this museum to your MyMuseum wish list. Once added you can choose to save this for future visits or email the Museum details to a friend.
The Museum of Barnstaple and North Devon
Museum of Barnstaple & North Devon
The Square
Barnstaple, DEVON EX32 8LN