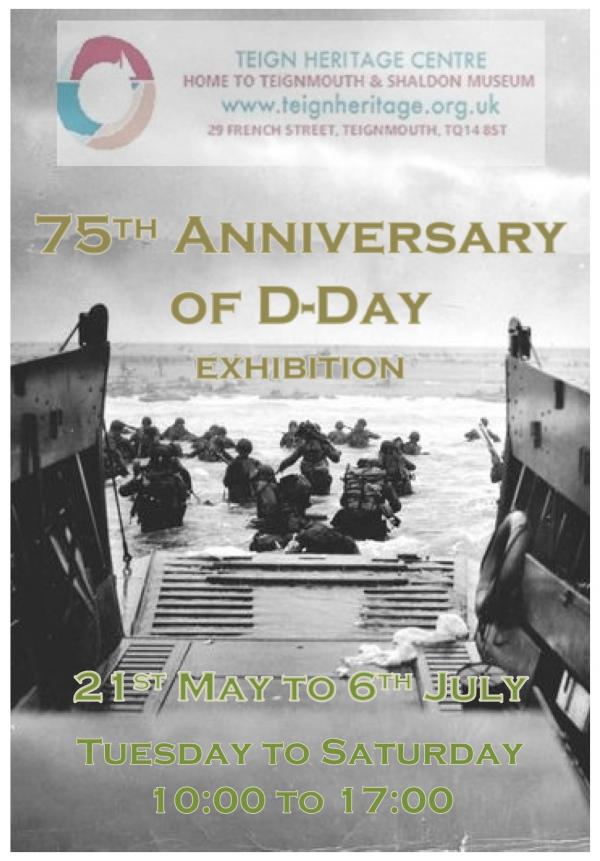 When: 21 May 2019 to 06 July 2019
Where: Teign Heritage, 29 French Street, teignmouth, TQ14 8ST
Time: 10:00 - 17:00
Cost: £2-.50
Suitable for: Family friendly

The 75th ANNIVERSARY OF D-DAY
Tuesday May 21st to 6th July
The next exhibition remembering the 75th Anniversary of D-Day will start on 21st May as we remember the run up to the D Day Landings and how that impacted on Teignmouth and Shaldon.
The exhibition will run until 6th July and we will also be taking a small display to the Armed Forces Day on the Den on 23rd June.
If you or anyone you know has a story to tell about the 2nd World war in Teignmouth or the Americans who were billeted here please get in touch. We would love to record your memories.
Exhibitions & Projects
Around the World

Tiverton Museum of Mid Devon Life

24 January 2019 to 31 August 2019

D Day 75: The Story of Operation Overlord in South Devon

Torquay Museum

02 July 2019 to 31 August 2019

Ipplepen: New Discoveries on the Edge of the Roman Empire

Torquay Museum

16 March 2019 to 07 September 2019

Bare Bones

Torquay Museum

25 May 2019 to 08 September 2019

TEIGNMOUTH'S RAILWAY: Yesterday, today and tomorrow

Teign Heritage Centre Home to Teignmouth and Shaldon Museum

16 July 2019 to 22 September 2019

Nomads: Homes on the Move

Royal Albert Memorial Museum and Art Gallery

13 July 2019 to 06 October 2019

Crediton Station: A Brief Encounter

Crediton Area History And Museum Society

10 April 2019 to 26 October 2019

Countess Wear Paper Mill

Topsham Museum

30 March 2019 to 31 October 2019

Views of Old Countess Wear

Topsham Museum

31 March 2019 to 31 October 2019

Fairground Art

Dingles Fairground Heritage Centre

16 February 2019 to 02 November 2019

Birds without Borders

Royal Albert Memorial Museum and Art Gallery

20 July 2019 to 03 November 2019

Martha, Mesmeric subject An installation by Amy Goodwin

22 June 2019 to 03 November 2019

ECFC A to Z of Players

Exeter City Football Club Museum

01 January 2019 to 31 December 2019

History of St James Park Project

Exeter City Football Club Museum

01 January 2019 to 31 December 2019

ECFC Museum Project

Exeter City Football Club Museum

01 January 2019 to 31 December 2019

Exeter's Fine Art Collection: A Sense of Place

Royal Albert Memorial Museum and Art Gallery

18 June 2019 to 15 March 2020