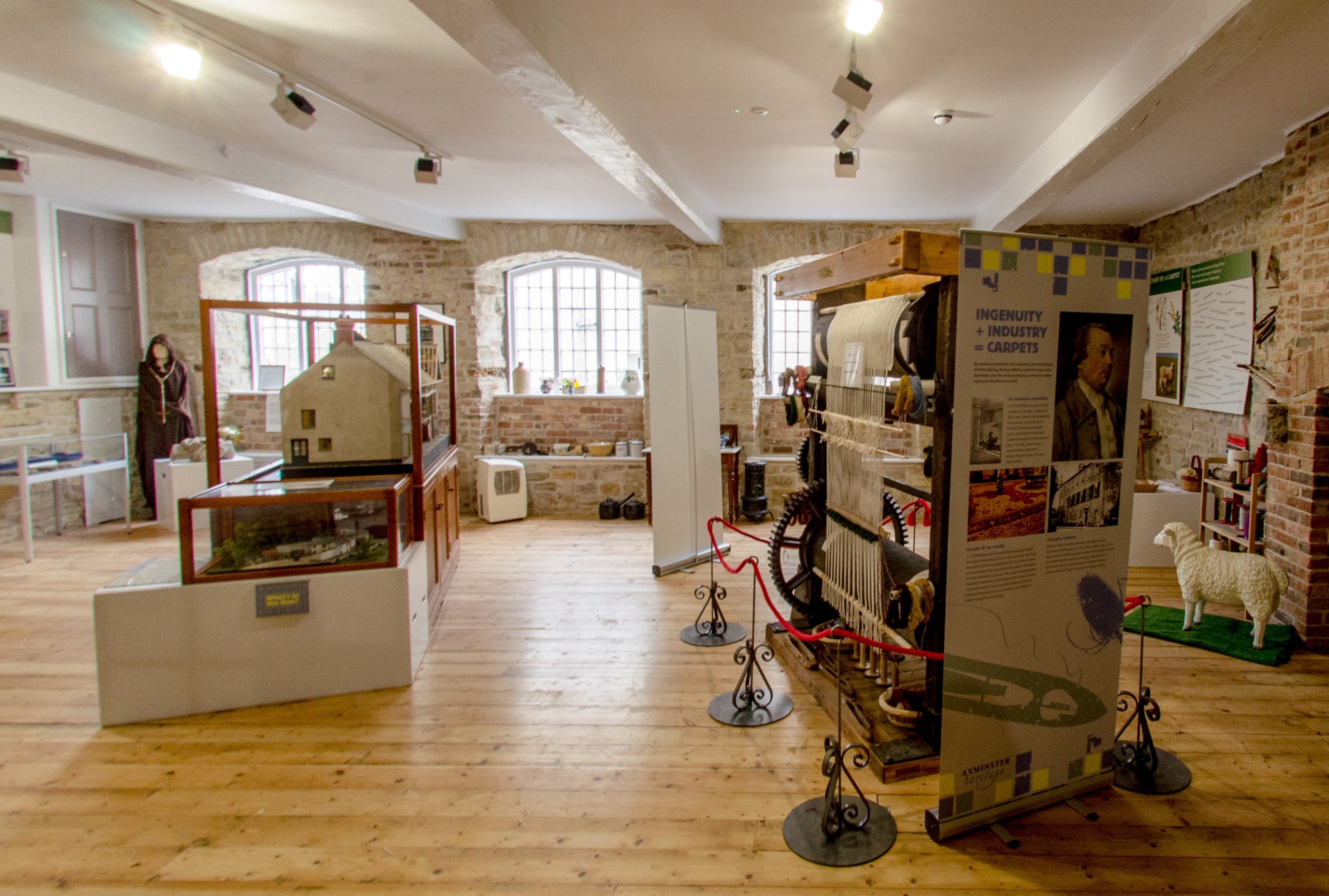 Axminster Heritage Centre
Interactive displays tell the story of Axminster and its surrounding villages from pre-history, through Roman times, as a busy agricultural market town post its 1210 charter and as an important brush making centre, notably for toothbrushes. Children can enjoy their own trail with dressing up points and a quiz.
There is a special focus on the world famous carpet industry founded by Thomas Whitty, an original 18th century loom and a beautiful 1769 Whitty carpet. A fully working 1930s Crabtree loom is occasionally run - see website for details Fittingly all this is housed in a factory Whitty built for his family business and which subsequently served the town as a court-house and a hospital.
Admission & prices
Located in the centre of Axminster, just off Trinity Square in Silver Street.
A short walk from car parks and bus stops.

FREE Under 17.
Adults £3
Annual Membership with unlimited entry £10
Donations welcome

We are closed for the foreseeable future working within government guidelines.
Our website has extensive information about the story of Axminster.
Find us
In the town centre just off Trinity Square, in Silver Street.
Close to bus stops and a short walk from the railway station.
Information
Located in the centre of Axminster close to the Minster, local shops, cafes, pubs and restaurants, including River Cottage Canteen and Deli.
In addition to the heritage gallery:

The Dye House, Courtyard and Garden…
In the courtyard, beside the restored Dye House, our garden helps you learn about the plants used to create dyes to colour Axminster carpets.

Temporary Exhibitions…
To complement our permanent exhibition we regularly present and host temporary exhibitions, check our website for information.

Information for Tourists and Local Residents…
The Information Point is in our reception area where you can find places to visit, local event information and tickets, walks, cycle routes and bus timetables.

Axminster Heritage Alive…
Join in our extensive programme of friendly events, including talks, art and craft courses, films and coach trips. Check 'What's On' at our website for details.

The Bradshaw Meeting Room…
A comfortable venue with a kitchenette, digital projector and Wi-Fi is available to hire for meetings, classes, and community gatherings. Check 'Venue Hire' at our website for details.
Thomas Whitty House,
Silver Street,
Axminster
EX13 5AH

T: 01297 639884
E: info@axminsterheritage.org
Axminster Heritage Centre
Thomas Whitty House,
Silver Street,
Axminster, DEVON EX13 5AH