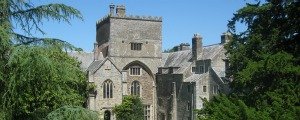 Buckland Abbey, Garden and Estate
700-year-old home of Elizabethan seafarers Drake and Grenville In the 13th century, Buckland Abbey was home to the Cistercian monks who built the abbey and the incredible Great Barn and farmed the then vast estate. The Abbey, now a house with a combination of furnished rooms and interactive museum galleries, tells the story of how two seafaring adventurers - Sir Richard Grenville and Sir Francis Drake - changed the shape of the house and the fate of the country.
Discover the Buckland estate, the newly acquired Cider House Gardens, the meadows, the orchards and the late spring bluebells. Enjoy the peace and tranquillity of the Tavy Valley and the far-reaching views.
Self-portrait, wearing a White Feathered Bonnet by Rembrandt

A Dutch painting expert has identified what could be a lost Rembrandt hanging in our dining room. Our portrait of Rembrandt was previously thought to have been painted by his pupils but it could soon be verified as being the work of the Dutch master himself. PHOTO: Steve Haywood

Sir Francis Drake statue

Made by Sir Joseph Edgar Boehm, RA (Vienna 1834 - London 1890) A dramatic figure in it's own right, this plaster cast was used for the making of bronze statue in Tavistock and on Plymouth Hoe.

Stained glass window in the chapel

The coloured glass from this window is said to be from Rheims Cathedral and was rescued from the bombed cathedral by Lord Seaton after the first world war and brought back for Lady Seaton.

Harmonium in the chapel

A harmonium is a free-standing keyboard instrument similar to a reed organ. Sound is produced by air, supplied by foot or hand operated bellows, being blown through a set of reeds resulting in a sound similar to that of an accordion.

Puzzle Jug in Drake Chamber

A yellow glazed earthenware puzzle jug, with birds and flowers in sgraffito decoration, with pin pricked spiralling patterns in rine around the base and similarly on the pulled handle.
Admission & prices
Opening times:

Abbey*
16 Feb-8 Mar daily 12-4
9 Mar-3 Nov daily 11.30-4.30
8 Nov-1 Dec FriSatSun 12-4
6 Dec-22 Dec daily 12-4

Estate, gardens, restaurant, shop & Ox Yard Gallery*
16 Feb-3 Nov daily 10.30-5.30
8 Nov-1 Dec FriSatSun10.30-5.30
6 Dec-22 Dec daily 10.30-5.30

* Last admission into the Abbey building is 30 minutes before closing. Ox Yard Gallery opening times may vary, please phone ahead. Entire property closed from 23 December to mid February.


Prices:

National Trust members FREE
Gift Aid [Standard Admission prices in brackets]
Abbey and grounds: £9.50 [$8.55], child £4.75 [£4.25], family £23.50 [£21.15], Family with one adult £14.25 [£12.80]. Groups [15+] £8, child £4. Grounds only: £5 [£4.50], child £2.50 [£2.25].
Vouchers to tea-room or shop for those arriving by bicycle or public transport. Free admission to visitors only wishing to visit the shop, restaurant or gallery. Dogs free [limited access to countryside].
Find us
Turn off A386, ¼ mile south of Yelverton
Information
The property is on steep slopes. Ramped entrance into abbey. Ground floor has steps, ramp available. Stairs to other floors. 119 steps on normal visitor route. One other floor accessible via different door. Ring for more details.
DON'T MISS
€¢ Explore our newly acquired Cider House Garden
€¢ Enjoy the peaceful estate on one of our walks
€¢ Discover 700 years of history and change in the Abbey
€¢ Take up the challenge of our letterbox trail!
€¢ See the famous Drake's Drum and learn the legend
€¢ Full programme of events, from concerts to living history

FOR FAMILIES
€¢ Baby-changing facilities
€¢ Pushchairs & baby back-carriers admitted to the grounds
€¢ Family information sheet
€¢ Children's quiz trail
€¢ School holiday activities everyday
€¢ Baby carriers available
€¢ Dressing up in period costumes
€¢ Pushchair friendly estate walk
€¢ Dogs allowed on portions of the estate
€¢ Children must be accompanied by an adult in the abbey
Yelverton, PL20 6EY
Yelverton
PL20 6EY

T: 01822 853607
E: bucklandabbey@nationaltrust.org.uk
Buckland Abbey, Garden and Estate
Yelverton, PL20 6EY
Yelverton, DEVON PL20 6EY