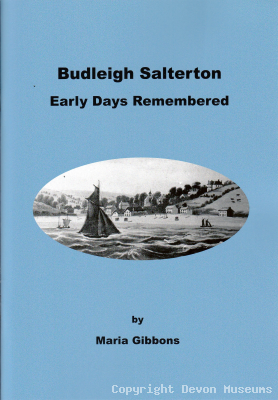 Budleigh Salterton Early Days Remembered
Price: £2.50
Stock: 30 available
Maria Gibbons compares Queen Victoria's Golden Jubilee celebrations in 1887 with those of King George 3rd's Golden Jubilee in 1809. A unique comparison of Budleigh Salterton the Victorian town with that of Salterton the Georgian fishing village.

Maria Gibbons wrote this little history book in 1887 at the time of Queen Victoria's Golden Jubilee, comparing it to the Golden Jubilee of George III in 1809. All proceeds from the book were to go to the new Salterton Cottage Hospital fund, a cause she felt strongly about having formerly served as the Parish Nurse.

Maria and her widowed mother moved to Devon in 1857 and lived in the house now called 'Vicars Mead' in East Budleigh before moving to Budleigh Salterton in 1882. Maria wrote several books during her lifetime; novels, blank verse and her very popular 'We Donkeys' series in which she depicts her travels around Devon. Much of her work was either unsigned or written under the nom de plume 'Volo non Valeo'.

In 1987, the centenary of the first publication, the Otter Valley Association printed a facsimile copy of the book; a limited-edition of 1000 copies. Fairlynch Museum decided to reproduce the book in 2022, the year of Queen Elizabeth's Platinum Jubilee. Although it is printed in a larger modern font, with revised punctuation for ease of reading, all the words are those of Maria Gibbons.

The museum holds the only known copy of the original publication and copies of the 1987 reprint can be seen on request.

With thanks to Roz Hickman, Editor of the book.
You might also be interested in?
Our Little Clown , a centenary tribute to entertainer Reg Varney (1916 to 2008)

£4.00

The first-ever biography of actor and entertainer Reg Varney 48 pages 82 illustrations; approx.

Devon's New World Explorers , a publication by the Fairlynch Museum

£3.00

AUTHORS: Mike and Margaret Wilson A5 booklet of Fairlynch's exhibition to celebrate the voyages of West Country navigators in the 16th and 17th centuries, decades before the Pilgrim Fathers sailed from Plymouth in Mayflower in 1620.