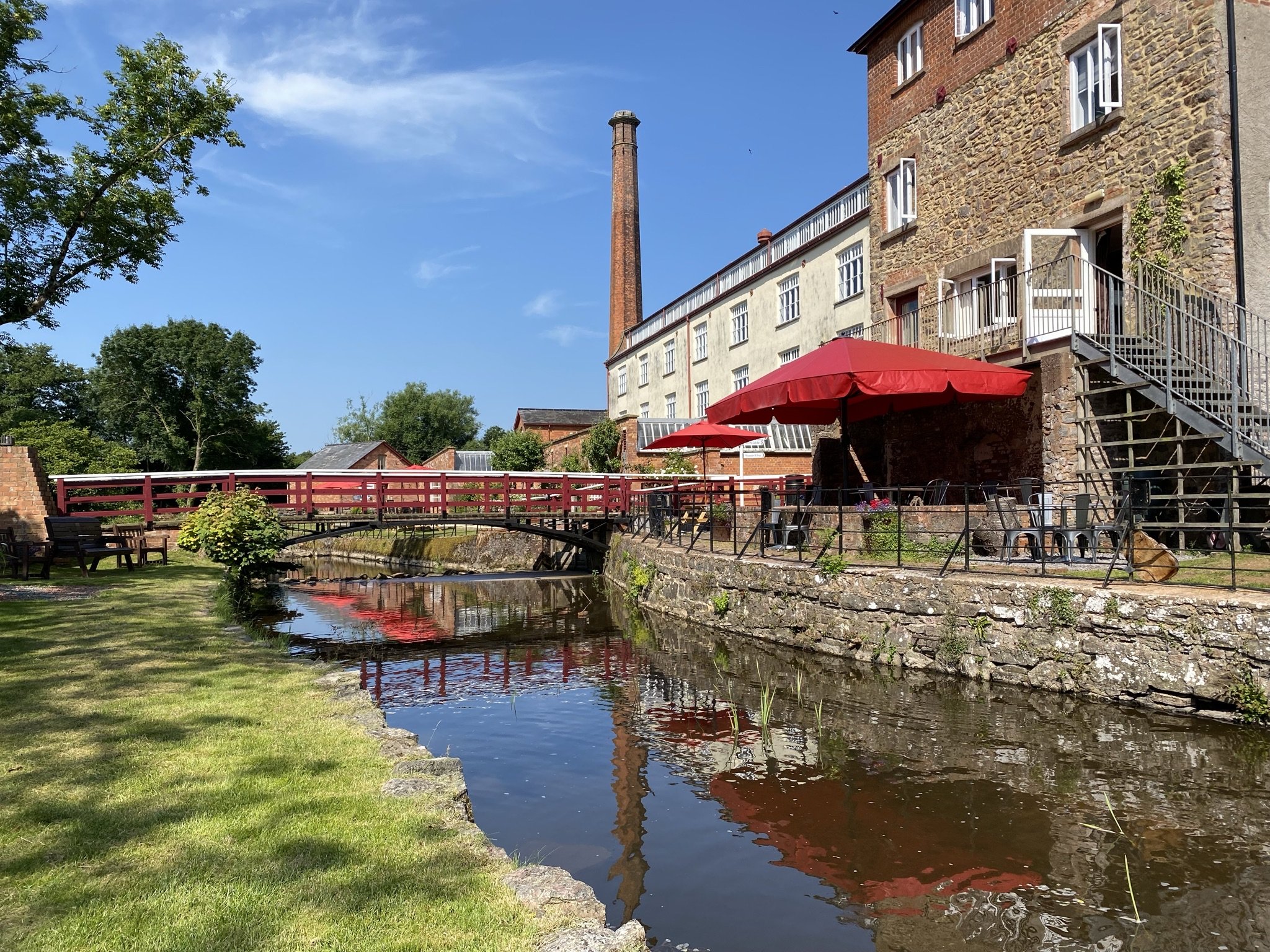 Coldharbour Mill Working Wool Museum
Coldharbour Mill, built between 1797 and 1799 as Fox Brothers' first spinning mill in the South West, preserves a collection of Victorian spinning frames for the worsted process, and Hattersley looms are still in use to weave knitting yarns, tartan cloth, rugs and stair runners. Come and discover the sights, sounds and smells of a Victorian textile mill! You will see all the stages that a sheep's fleece goes through to make knitting yarn and how the worsted yarn is used to weave rugs and tartan cloth.
The 1821 Breast Shot Waterwheel has been restored to working condition, and the 19th Century Steam Engines and Lancashire Boilers may be viewed in their original location.
Spinning Frames

The Georgian Mill houses two examples of Wool Processing: the traditional woollen yarn spinning developed from the Cottage Industry and worsted spinning developed for power looms. This picture shows an 'open draw' spinning frame - click on the picture for the full view.

Weaving the Devon Tartan

Fox Brothers Ltd were famous for their 'West of England Worsted' suiting fabric. Coldharbour Mill has a collection of the firm's Hattersley looms now used to weave the Mill's unique pure wool Devon and Blackdown Hills tartans.
Admission & prices
Coldharbour Mill Museum (inc shop & cafe) is closed during winter except for events - see the Mill website for dates and details - and for pre-booked adult and school groups. Coach parties are welcome by appointment.
Group guided tours can be booked in advance on any day - for more information, please email or phone.
See the Learning Page or the Mill website for our schools and colleges programme - contact us for more information or to book.

For admission prices & special events, including Steam Days, see: www.coldharbourmill.org.uk/visit

Visitors can view the combing shed and the working factory to see the process from raw fleece to spinning & weaving, and the museum floor with carding engine, spinning mule, and Puttee Exhibition. There are occasional visiting exhibitions in the Fox Gallery.
Wander round the Mill yard to view the water wheel, steam engines and boiler house, carpenter's workshop - if you visit on a Steam Day, these will all be in action!
Visit the Mill Shop to buy yarns and textiles produced at the Mill, and local craft goods, books and souvenirs. Relax before or after your visit in the Waterside Cafe by the millstream. (no entry fee needed)
Find us
Satnav EX15 3EE.

Only 5 minutes by car from junction 27 of the M5. Follow the signs to Willand (B3181), then the brown tourist signs saying 'Working Wool Museum' to Uffculme.

for bus & train info, see www.coldharbourmill.org.uk/visit
Museum news
Coldharbour Mill are looking for a Nature & Communities Project Lead to plan and deliver their Rural Skills Training Programme and develop Coldharbour Mill's outdoor spaces including their wildlife and waterway......

Coldharbour Mill Museum among more than 2,700 recipients to benefit from the latest round of awards from the £1......
Information
Explore our 10-acre Estate, our beautiful gardens or take a stroll past our Mill Pond and into our meadow where you can enjoy the Devon wildlife all around.
Take a break and relax by the waterside at our Grist Mill Café Bar and Shop, whilst making use of our FREE Wi-fi!
Group bookings: the Mill office will be pleased to arrange full guided tours for groups and coach parties

To make your group booking, please email info@coldharbourmill.org.uk or phone 01884 840960 (Mon-Fri 9.30am-4.30pm).

Please note that full guided tours for groups are not available on our Steam Days, though groups are most welcome to visit on those days and take part in the mini-tours of the factory floor and the steam complex.

Please note that the car park is restricted to cars on Steam Days, so coaches may need to arrange drop-off and pick-up points near the Mill for their groups.

Just across the road from the Mill is a small country park by the millpond, ideal for picnics.
Coldharbour Mill
Uffculme
Cullompton
EX15 3EE

T: 01884 840960
E: info@coldharbourmill.org.uk
Our videos
Click on the play button below to view our videos
Coldharbour Mill Working Wool Museum
Coldharbour Mill
Uffculme
Cullompton, DEVON EX15 3EE