When: 30 March 2019 to 31 October 2019
Where: Topsham Museum
Time: 1400 - 1700
Cost: None
Suitable for: Any age


The main exhibition this year is the Countess Wear Paper Mill, which produced paper for newsprint and bank notes from around 1650 until 1885. John Dunsford has done much of the research for this exhibition, assisted by Mark Dant. Do come along and learn where the mill was, how it prospered and why it declined. We are exhibiting the model made by an apprentice at the mill in the 1800s.
In the nineteenth century, paper making was well established at Countess Wear; the earliest reference to a mill on St James' Weir leat was in 1563 when John Trew considered the leat as a possible route for the canal, an idea abandoned, partly because of the expense of compensating the mill owner. The leat had been in existence since the establishing by the Cluniac Priory on the land of Isca College, of a grist mill. The use of the site as a paper mill dates from before 1750. It was destroyed by fire twice, and two of the owners committed suicide during the nineteenth century. In 1842, Thomas Whitaker merged two of the arches of Countess Wear bridge for Robert Davy, allowing his barges of coal access to the paper mill. The paper mill continued production until 1885 when it closed and the site was dismantled.
Elsewhere in the Museum:
In the tea room, there are photographs showing Countess Wear scenes, to support the main Paper Mill exhibition.
The plinth in the Sail Loft will be used for children's activities during the school holidays, while in term-time until July, the Trefoil Guild are mounting a display to celebrate their story.

Sections of the 'Topsham in the 1920s' audio tapes which featured in this year's Topsham Times, are being compiled to form an audio-visual show on one of the Museum's screens.


We hope you will visit our new exhibitions! We look forward to welcoming you to Topsham Museum.
Exhibition Gallery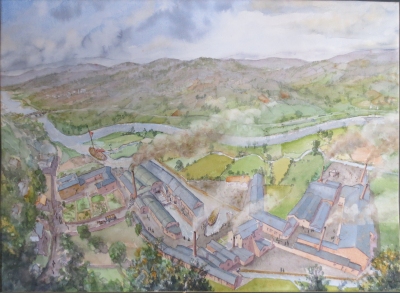 Exhibitions & Projects
Naomi Frears The Importance of Sleeves

Royal Albert Memorial Museum and Art Gallery

25 April 2020 to 28 June 2020

What Do You Collect A common thread

Royal Albert Memorial Museum and Art Gallery

24 March 2020 to 28 June 2020

Shots taken: books, bars and beyond

Royal Albert Memorial Museum and Art Gallery

19 May 2020 to 05 July 2020

The Secret Museum

Torquay Museum

20 June 2020 to 05 September 2020

What Do You Collect Absolutely Bagulous

Royal Albert Memorial Museum and Art Gallery

09 July 2020 to 06 October 2020