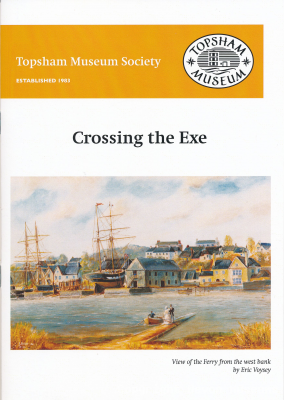 Crossing the Exe
Price: £2.50
Stock: 25 available
Newly published to coincide with our 2015 exhibition of the same name. A brief history of the Topsham Ferry and other means of crossing the Exe, including by bridge.


Known crossings included a bridge at Exeter, perhaps in existence since Roman times, and a ferry from Exmouth to Starcross, dating from at least the 12th century. Between these points there were dangerous fording places until Countess Wear bridge was built.)
You might also be interested in?
Topsham Times, Issue 17, 2014

£1.00

Published annually, this 50 page Journal contains articles on subjects related to the history of Topsham.

HMS Terror: A Topsham Ship

£2.50

The story of the ill-fated expedition to the North West Passage and the Topsham built ship, the HMS Terror.