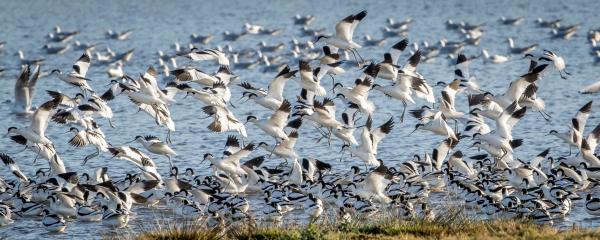 When: 19 March 2018 to 27 April 2018
Where: South Molton Museum - Gingell Gallery
Time: 10.30am -
Cost: Free
Suitable for: Family friendly

Devon Birds, together with the South Molton Museum, is putting on an Exhibition of photographs of birds from the 19th March to the 26th April 2018. All of the photographs have been taken in Devon, and reflect a wide cross-section of species from the "common" birds that most of us see in our gardens, to much rarer visitors that can be seen from time to time only at particular seasons of the year.
Devon Birds is a county bird society with a long and distinguished history dating back to 1928. In addition to providing records of the birds found in Devon, it has a further focus on the study and conservation of wild birds and the changes in the numbers of particular species. To support this activity, Devon Birds works with the RSPB, (Royal Society for the Protection of Birds), and other Wildlife Charities in Devon and Nationally across a range of initiatives. These include the protection of rare breeding birds, surveys of particular birds such as the Cuckoo, Wood Warbler, etc., and a variety of habitat surveys on estates across the county. Devon Birds has also acquired or taken on management responsibilities in the running of a number of Nature Reserves across Devon.
Over the past decade, membership of Devon Birds has steadily grown, reflecting the pleasure people get from seeing birds in their gardens, out on family walks, and in their day to day lives. It is really heartening as well to see how the membership demonstrates a commitment to supporting the activities of the Society, and in contributing to their conservation activities both practically and financially.
By staging this exhibition it is hoped that visitors to the South Molton Museum will be stimulated to appreciate even more the wonder of the nature, and the good fortune that we have in Devon in living in the proximity to such a wide range of habitats that encourage these beautiful birds to come to this part of the world.
Exhibitions & Projects
What do you collect For the record

Royal Albert Memorial Museum and Art Gallery

10 July 2018 to 30 September 2018

Behind the scenes at the museum

Royal Albert Memorial Museum and Art Gallery

03 July 2018 to 07 October 2018

Trash or Treasure

Tiverton Museum of Mid Devon Life

28 March 2018 to 20 October 2018

One Hundred Years of Motor Buses in Tavistock

Tavistock Museum

24 March 2018 to 31 October 2018

Ronald Gard A Hero of the Great Escape

Tavistock Museum

24 March 2018 to 31 October 2018

War Came to Topsham: a Commemoration on the Centenary of the Armistice

Topsham Museum

25 August 2018 to 31 October 2018

African Masks Exhibition

Ilfracombe Museum

18 July 2018 to 31 October 2018

'Ilfracombe's Faces of War'

Ilfracombe Museum

01 August 2018 to 31 October 2018

Teignmouth and Shaldon Remember the First World War

Teign Heritage Centre Home to Teignmouth and Shaldon Museum

14 September 2018 to 11 November 2018

Exeter's Fine Art Collection: Childhood

Royal Albert Memorial Museum and Art Gallery

08 May 2018 to 25 November 2018

Curiosity Shop: looking with older eyes

Royal Albert Memorial Museum and Art Gallery

09 October 2018 to 09 December 2018

Travelling Showmen and the First World War

Dingles Fairground Heritage Centre

10 February 2018 to 16 December 2018

Museum On Tour: Plymouth From Destruction to Construction

Plymouth City Museum and Art Gallery

09 December 2017 to 22 December 2018

Devon Voices 1914 1918: Home Front Stories

Royal Albert Memorial Museum and Art Gallery

15 September 2018 to 06 January 2019

Canadians in Devon 1914 1918: War Photographs

Royal Albert Memorial Museum and Art Gallery

15 September 2018 to 06 January 2019

What do you collect Skirt Lifters

Royal Albert Memorial Museum and Art Gallery

02 October 2018 to 06 January 2019

Royal North Devon Yeomanry Collection

The Museum of Barnstaple and North Devon

01 January 1988 to 01 February 2019

North Devon Pottery

The Museum of Barnstaple and North Devon

01 February 1988 to 01 February 2019

Pre History Gallery

The Museum of Barnstaple and North Devon

01 February 1988 to 01 February 2019

Tarka Gallery

The Museum of Barnstaple and North Devon

01 February 1988 to 01 February 2019

More Deadly Than War: Spanish Flu and the Threat of Pandemic

Torquay Museum

18 October 2018 to 24 February 2019

Bedwyr Williams at RAMM

Royal Albert Memorial Museum and Art Gallery

21 July 2018 to 30 April 2019

Local Art Show 2019: Migration

Royal Albert Memorial Museum and Art Gallery

12 June 2019 to 30 June 2019