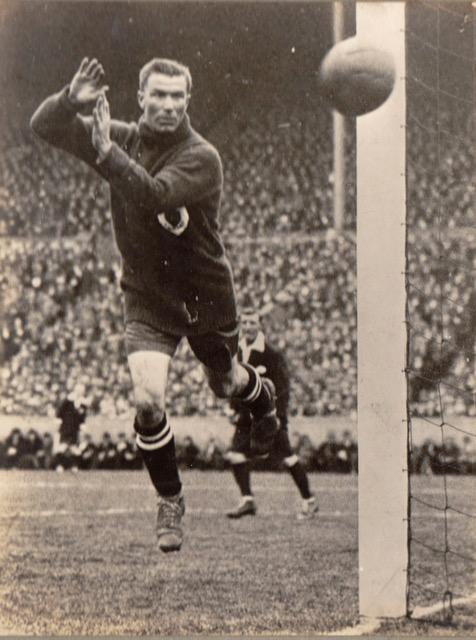 Dick Pym the Fisherman Footballer
Topsham Museum
When: 29 March 2023 to 31 October 2023
Where: Topsham Museum
Time: 1400 - 1700
Cost: None
Suitable for: Any age

Main Exhibition 2023

Dick Pym was the premier English goalkeeper of the 1920s, gaining winner's medals in three FA Cup finals without conceding a single goal.
Our 1923 exhibition tells his rags to pitches story, including his part in a pre-WW1 soccer tour of South America, and centring on the 1923 FA Cup Final.
Played 100 years ago this year, the 'White Horse' Final was the first to be played at Wembley and the match did not turn out as the promotors expected. If you're keen on football, and even if you're not, you'll enjoy this amazing, heart-warming story.
Exhibitions & Projects
Six Legged Superheroes: Insects Saving the Planet

Torquay Museum

27 May 2023 to 07 October 2023

The Silver Wave by Michelle Williams Gamaker

Royal Albert Memorial Museum and Art Gallery

20 October 2022 to 08 October 2023

The Great Fire of Crediton

Crediton Area History And Museum Society

19 April 2023 to 28 October 2023

Cecil Isobel Elgee

Fairlynch Museum Budleigh Salterton

07 April 2023 to 29 October 2023

Reframing Reynolds: A Celebration

The Box, Plymouth

24 June 2023 to 29 October 2023

Tea Room Exhibition

Topsham Museum

29 March 2023 to 31 October 2023

Dick Pym the Fisherman Footballer

Topsham Museum

29 March 2023 to 31 October 2023

Votive for the Next Earth by MH Sarkis

Royal Albert Memorial Museum and Art Gallery

02 May 2023 to 19 November 2023

Art Pottery

Royal Albert Memorial Museum and Art Gallery

20 June 2023 to 10 December 2023

Hollow Earth: Art, Caves and the Subterranean Imaginary

Royal Albert Memorial Museum and Art Gallery

23 September 2023 to 07 January 2024

The Armada Portrait of Queen Elizabeth I

The Box, Plymouth

11 February 2023 to 07 January 2024

Dutch Flowers

The Box, Plymouth

07 October 2023 to 07 January 2024

People and Place: Art Collection Showcase

The Box, Plymouth

04 February 2023 to 24 January 2024

Project Buzz

Royal Albert Memorial Museum and Art Gallery

13 June 2023 to 28 January 2024

A British Museum Touring Exhibition Egyptian hieroglyphs: unlock the mystery

Torquay Museum

21 October 2023 to 18 February 2024

The Museum is delighted to announce that a collection of Shaldon handmade lace over 100 years old has been acquired

Teign Heritage Centre Home to Teignmouth and Shaldon Museum

09 May 2023 to 09 May 2024

Yinka Shonibare CBE RA: End of Empire

The Box, Plymouth

12 October 2023 to 23 June 2024