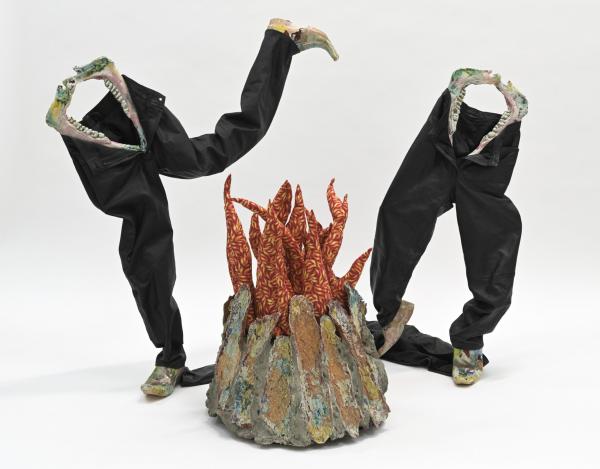 When: 11 February 2023 to 07 May 2023
Where: Royal Albert Memorial Museum and Art Gallery Queen St, Exeter, EX4 3RX
Time: 10:00 - 17:00
Cost: Free
Suitable for: Any age

Artists: Caroline Achaintre, Emma Hart, Kris Lemsalu, Mercedes Mühleisen, Grace Ndiritu, Florence Peake, Kiki Smith, and Lucy Stein
Through the work of eight contemporary artists, this specially curated new exhibition for RAMM explores otherworldly connections to nature. Earth Spells: Witches of the Anthropocene responds to RAMM's collections, specifically the Dartmoor Cauldron, once owned by the self-identified 'Witch of Dartmoor' Elizabeth Webb. The 'Anthropocene' is a proposed definition of geological time that describes the period from 1945 to now, where human activity has had significant impact on the planet's ecosystems.
The artworks express an intuitive response to the climate and ecological crises. They suggest new spiritual relationships with the land, especially in Devon and Cornwall. Dartmoor is widely known as a place for self-healing and shamanistic practices with its Neolithic stone circles and burial mounds.
Earth Spells invites the viewer to consider if the artists and the artworks could be perceived as suspicious and challenging, radiating 'witchiness'.
Artists Emma Hart, Grace Ndiritu, Florence Peake and Lucy Stein have been commissioned to create new work in response to RAMM's collections.
Lucy Stein says, 'To a certain extent as an artist/witch, I have to stay in tune with an uncultivated state inside myself. For this commission at RAMM, I am trying to tap into the vibe of my childhood, death, the mystical feminine and the spirit of place in the South West.'
Florence Peake presents films, ceramic sculptures and text-based fabric installations inspired by the cauldron's aura and her visit to a Shaman on Dartmoor. Emma Hart is interested in the power of individuals whose words incite change, for example Greta Thunberg's activism. Grace Ndiritu's work draws on indigenous ideas that urge us to live and work for the benefit of all future generations and ecosystems. Her protest carpet is 'activated' through an intimate, spiritual ceremony in the museum.
Other works on display include a Jacquard tapestry and drawings by Kiki Smith; a hand-tufted rug by Caroline Achaintre; Mercedes Mühleisen's video installation Lament of Fruitless HEN; and the sculpture Baubo Dance by Kris Lemsalu.
Earth Spells is co-curated by Lara Goodband, Contemporary Art Curator and Programmer at RAMM, and independent curator Gemma Lloyd.
Image: Baubo Dance by Kris Lemsalu (credit Stanislav Stepaško, courtesy of the artist and Temnikova & Kasela Gallery)
Exhibitions & Projects
Youth Panel: Making Sense

Royal Albert Memorial Museum and Art Gallery

17 January 2023 to 11 June 2023

May The Toys Be With You

Torquay Museum

25 March 2023 to 17 June 2023

Coronation Celebration

Royal Albert Memorial Museum and Art Gallery

14 March 2023 to 18 June 2023

A look at Higher Brook Street in the 19th Century

Teign Heritage Centre Home to Teignmouth and Shaldon Museum

10 May 2023 to 27 June 2023

Ruth Bell: Calling of the Tide

Royal Albert Memorial Museum and Art Gallery

10 January 2023 to 09 July 2023

What do you collect Lace bobbins

Royal Albert Memorial Museum and Art Gallery

10 January 2023 to 09 July 2023

Gatekeepers to Heaven: Religion, knowledge and power in medieval Exeter

Royal Albert Memorial Museum and Art Gallery

03 June 2023 to 03 September 2023

Sublime Symmetry: The Mathematics behind De Morgan's Ceramic Designs

Royal Albert Memorial Museum and Art Gallery

20 May 2023 to 10 September 2023

Rana Begum: Dappled Light

The Box, Plymouth

24 June 2023 to 24 September 2023

Six Legged Superheroes: Insects Saving the Planet

Torquay Museum

27 May 2023 to 07 October 2023

The Silver Wave by Michelle Williams Gamaker

Royal Albert Memorial Museum and Art Gallery

20 October 2022 to 08 October 2023

The Great Fire of Crediton

Crediton Area History And Museum Society

19 April 2023 to 28 October 2023

Reframing Reynolds: A Celebration

The Box, Plymouth

24 June 2023 to 29 October 2023

Tea Room Exhibition

Topsham Museum

29 March 2023 to 31 October 2023

Dick Pym the Fisherman Footballer

Topsham Museum

29 March 2023 to 31 October 2023

Votive for the Next Earth by MH Sarkis

Royal Albert Memorial Museum and Art Gallery

02 May 2023 to 19 November 2023

Art Pottery

Royal Albert Memorial Museum and Art Gallery

20 June 2023 to 10 December 2023

The Armada Portrait of Queen Elizabeth I

The Box, Plymouth

11 February 2023 to 07 January 2024

People and Place: Art Collection Showcase

The Box, Plymouth

04 February 2023 to 24 January 2024

Project Buzz

Royal Albert Memorial Museum and Art Gallery

13 June 2023 to 28 January 2024

The Museum is delighted to announce that a collection of Shaldon handmade lace over 100 years old has been acquired

Teign Heritage Centre Home to Teignmouth and Shaldon Museum

09 May 2023 to 09 May 2024