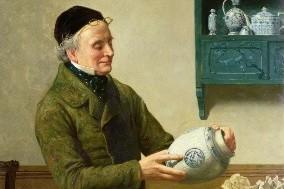 When: 08 February 2022 to 17 July 2022
Where: Royal Albert Memorial Museum & Art Gallery, Queen Street, Exete,r EX4 3RX
Time: 10:00 - 17:00
Suitable for: Any age

Since the Royal Albert Memorial Museum and Art Gallery was founded in the 1860s, it has benefitted from the support of donors, benefactors and funding bodies. Shining a light on the often overlooked topic of museum funding, this exhibition showcases the quality and diversity of Exeter's Fine Art Collection, which is in large part thanks to the generosity and foresight of these supporters, past and present.

The changing tastes and priorities of collectors and benefactors can be tracked through this display- scenes of historical and classical subjects were especially popular among the museum's Victorian supporters, while some more recent acquisitions have focused on modern and contemporary art inspired by the Devon landscape.

Some of RAMM's most important and well-loved works will be on display, including J.M.W. Turner's 'Buckfastleigh Abbey' and William Frith's 'The Fair Toxophilites'.
Exhibitions & Projects
Far Side of the World Torquay's Fijian Connection

Torquay Museum

01 February 2022 to 04 June 2022

In Plain Sight: Transatlantic slavery and Devon

Royal Albert Memorial Museum and Art Gallery

29 January 2022 to 05 June 2022

Another Crossing: Artists Revisit the Mayflower Voyage

The Box, Plymouth

26 February 2022 to 05 June 2022

Breaking the Mould: Sculpture by Women since 1945

The Box, Plymouth

26 March 2022 to 05 June 2022

Zadie Xa: Long ago when tigers smoked

The Box, Plymouth

02 April 2022 to 05 June 2022

Joy Gregory: The Sweetest Thing

Royal Albert Memorial Museum and Art Gallery

29 January 2022 to 05 June 2022

What Do You Collect Building a collection

Royal Albert Memorial Museum and Art Gallery

11 January 2022 to 19 June 2022

Trish Morrissey: Self Portrait with Two Snails

Royal Albert Memorial Museum and Art Gallery

07 December 2021 to 26 June 2022

Ray Balkwill: The River's Voice

Royal Albert Memorial Museum and Art Gallery

07 December 2021 to 26 June 2022

Exeter's Fine Art Collection: Funded with Thanks

Royal Albert Memorial Museum and Art Gallery

08 February 2022 to 17 July 2022

Pirates! Fact and Fiction

Torquay Museum

30 April 2022 to 03 September 2022

Titanic Exhibition: Torquay Museum

Torquay Museum

11 June 2022 to 03 September 2022

Dress Code Fashion Stories from The Box

The Box, Plymouth

02 April 2022 to 04 September 2022

George Shaw: The Local

The Box, Plymouth

18 June 2022 to 04 September 2022

Maurizio Anzeri: On The Move

The Box, Plymouth

02 April 2022 to 11 September 2022

Brick by Brick: A LEGO brick history of Exeter

Royal Albert Memorial Museum and Art Gallery

18 June 2022 to 11 September 2022

The Partridge Family of Barnstaple

The Museum of Barnstaple and North Devon

14 May 2022 to 29 October 2022

The Michelangelo Trail: A Delve Into LGBTQ Histories

Torquay Museum

01 February 2022 to 31 December 2022

Simon Pope: Here's to Thee

Royal Albert Memorial Museum and Art Gallery

31 January 2022 to 08 January 2023

Kay Walsh: All His Rights

Royal Albert Memorial Museum and Art Gallery

28 June 2022 to 08 January 2023

Shaldon Fore Street through time

Teign Heritage Centre Home to Teignmouth and Shaldon Museum

12 March 2022 to 12 March 2023

Ruth Bell: Calling of the Tide

Royal Albert Memorial Museum and Art Gallery

10 January 2023 to 09 July 2023