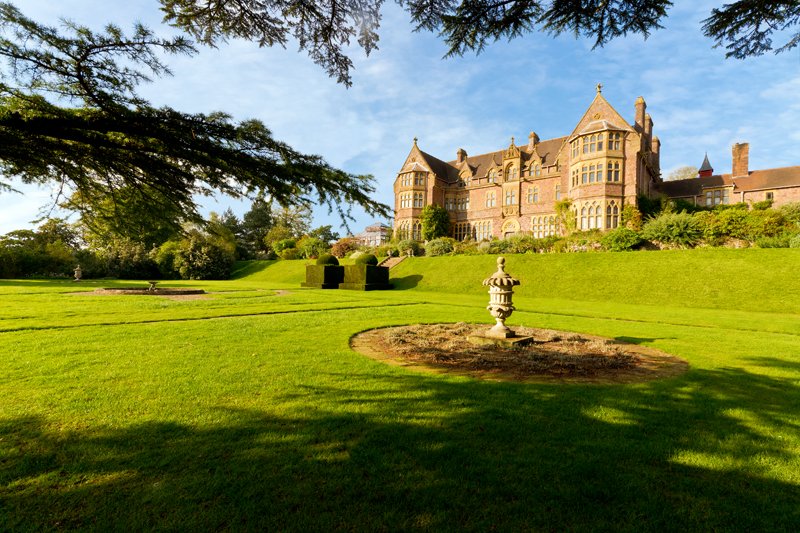 Knightshayes
Begun in 1869, and a rare survival of the work of the eccentric designer William Burges, Knightshayes is an extraordinary gothic delight, with rich Victorian interiors, with far reaching views of the Exe Valley and Tiverton. Knightshayes has one of the finest gardens in Devon, with formal terraces, unique topiary, rare shrubs, many fine specimen trees, glorious spring flowers and summer borders, and a full productive Walled kitchen garden, provided the restaurant with fresh seasonal fruit and vegetables all year round.
Fabulous ceiling designs throughout the house

Fantasticly ornate and beautifully painted ceilings feature throughout the house, designed by both Burges, and the designer who followed him, J.D.Crace

Extraordinary stone work, inside and out

Taking inspiration from medieval designs, Burges went wild with the stone work of the house, with gargoyles and grotesques on the exterior, and elaborate designs in the interior. Don't miss the seven deadly sins in the Billiard Room!

The library is the most complete room in the house

Many of the interiors show the life of high victorian society. With rich furnishings and heavy use of colour, the rooms give you a taster of life in an age gone by. Heavily restored by the Trust after many years of modification by the family, the house has many layers of history.

Joyce, Lady Amory nee Wethred. Painted by her father, Herbert

Joyce, Lady Amory, was the last member of the family to live in the house. Though a passionate gardener in later life, spent much of her youth as a championship golfer and there is a room in the house dedicated to her illustrious career.

The Burges room shows how the house might have looked throughout

William Burges had many grand plans for Knighthayes, many of which didn't see the light of day, as he was fired from the build. The Burges room, created by the Trust in conjunction with the V&A shows how the house might have looked if Burges had been able to have his own way.
Admission & prices
Opening times:
3 March- 4 Nov
Gardens, restaurant, gift shop and plant centre open 7 days a week, 11-5
House open every day except Friday (guided tours of the house on Friday's in school holidays)
8 Nov- 23 Dec
Gardens, restaurant, gift shop and plant centre open Thursday- Sunday, 11-4
House open weekends only.
26 Dec- 31 Dec
House, gardens, restaurant, gift shop and plant centre open Wednesday- Sunday, 11-3
1 Jan- 6 Jan
Gardens, restaurant, gift shop and plant centre open Tuesday- Sunday, 11-3
House closed

House, gardens and parkland:
Adult £9.40 (£8.40)
Child £4.70 (£4.20)
Family (2 ad, 3 ch) £23.70 (£21.40)
Family 1 ad (1 ad, 3 ch) £14.70 (£13.30)
Groups of 15 or more: Adult £8 ,Child £4

Gardens only:
Adult £7.50 (£6.80)
Child £3.80 (£3.40)
Groups of 15 or more: Adult £6.40, Child £3.20

Gift aid applies, standard prices shown in brackets.
Find us
Train: Tiverton Parkway 8 miles
Road: 7miles from M5 exit 27 (A361); turn right off Tiverton to Bampton road (A396) at Bolham
(SatNav: turn off on reaching Tiverton and follow signs)
Information
Dogs welcome on leads in the parkland and off leads in the wood.
3 March- 4 Nov
Gardens, restaurant, gift shop and plant centre open 7 days a week, 11-5
House open every day except Friday (guided tours of the house on Friday's in school holidays)
8 Nov- 23 Dec
Gardens, restaurant, gift shop and plant centre open Thursday- Sunday, 11-4
House open weekends only.
26 Dec- 31 Dec
House, gardens, restaurant, gift shop and plant centre open Wednesday- Sunday, 11-3
1 Jan- 6 Jan
Gardens, restaurant, gift shop and plant centre open Tuesday- Sunday, 11-3
House closed
National Trust,
Knightshayes,
Bolham
Tiverton
EX16 7RQ

T: 01884 254665
E: knightshayes@nationaltrust.org.uk
Knightshayes
National Trust,
Knightshayes,
Bolham
Tiverton, DEVON EX16 7RQ