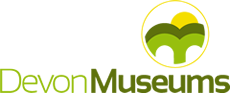 Markers Cottage
A fascinating medieval cob house, containing a cross-passage screen decorated with a painting of St Andrew. See the smoke-blackened timbers.
Discover the fascinating history behind the cottage and enjoy the garden with contemporary cob summer house.
15th-Century paintings

In the 1990s, conservation work on the house revealed stunning painted wooden screens. A full vernacular survey was carried out and the cottage was restored to its former glory.

Pargeting

Decorative plaster work called pargeting in the upper chambers of the cottage. The ornamentation was created by stamping the patterns on to wet plaster.

St Andrew and his boat

15th-century painting was found of St Andrew during conservation work.

Embroidery

A sample of embroidery handing in the cottage made in 1909.

Grandfather clock

A stunning clock on display in the house with detailed carving.
Admission & prices
National Trust members are free
£3.40 adult
£1.70 child

Open Sunday, Monday and Tuesday 2-5pm.
Find us
Information
Visit nearby Killerton for tea-rooms, shop and plant center.
Nearest parking and toilets are in Broadclyst.
Markers Cottage
Townend
Broadclyst
Exeter
EX5 3HX

T: 01392 461546
E: markerscottage@nationaltrust.org.uk
Markers Cottage
Markers Cottage
Townend
Broadclyst
Exeter, DEVON EX5 3HX