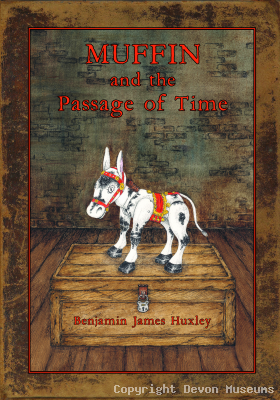 Muffin and the Passage of Time by Benjamin James Huxley
Price: £20.00
Stock: 19 available
Muffin the Mule first appeared on TV in 1946 and remained popular with a generation of children until 1955 and beyond. The BBC claimed him to be the first ever star to be made by television! Muffin and friends, including Peregrine the Penguin, Oswald the Ostrich and Grace the Giraffe, danced and sang with Muffin on top of Annette Mills' piano.
Ann Hogarth and her husband Jan Bussell were the puppeteers who also wrote the scripts and produced the shows. Ann retired to live in Budleigh Salterton in 1985, where she lived until her death in 1993. Ann and Muffin the Mule are now part of the town's history!
Inspired to bring Muffin back to life for a new generation, Ann's grandson commissioned author Benjamin James Huxley to recreate Muffin's adventures for children. This full length novel is beautifully illustrated and presented in this finely bound hardback book of 256 pages.
£20
Ideal reading for children and grandparents
You might also be interested in?
Joyce Dennys and Budleigh Salterton , An Artist's Life and Work in her Place and Times , 1893 to 1991 BY POST

£30.20

We are so delighted to be able to sell this book - and the full price of every book sold will go in support of the Fairlynch Museum.

Corsets , by Jill Salen

£20.00

How amazing to have a copy of this specialist book - signed by the author! Progressing through almost two centuries of corset-making, this fascinating collection showcases an astonishing range of period pieces, from the 1750 whale-boned corsets, through the invention of the sewing machine and mass-produced corsets of the 1850s to the makeshift corsets of World War One.