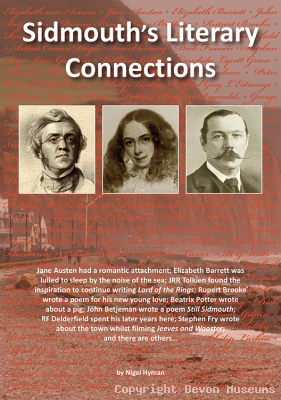 Sidmouth's Literary Connections
Price: £2.50
Stock: 99 available
You might also be interested in?
Sidmouth People and Places

£4.50

by Nigel Hyman Discover Sidmouth's rich history of colourful personalities and its legacy of fascinating buildings, many of which can easily be seen.

Sidmouth Rocks

£2.99

An introduction to Sidmouth's geology - or why are Sidmouth's rocks red? Why do they appear to contain so few fossils and why do they form crumbling sea cliffs? What can we learn about Sidmouth's 'deep history' from looking at these rocks? This easy to read booklet by Roger Trend explains it all, then takes you on the gentle Sidmouth Geology Walk.