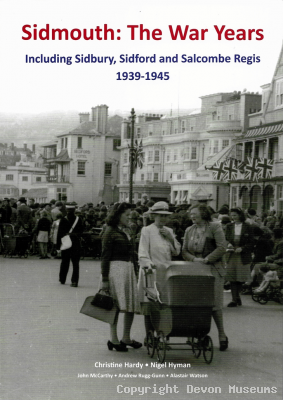 Sidmouth: The War Years 1939 to 1945
Price: £12.95
Stock: 494 available
Sidmouth: The War Years 1939-1945 includes Sidbury, Sidford and Salcombe Regis. It is an account of 'war at the home front' in the Sid Valley. The war years were momentous for Sidmouth, a huge influx of evacuees doubled the population and hotels became RAF training centres. The homeless from blitzed cities were given shelter while the valley echoed with air-raid sirens and music from fund-raising events.
There are the names of the 69 servicemen who died and a summary of their lives and deaths. Elsewhere are details of those (that we know) who won honours in the armed services and the merchant navy.

A4 212pp over 400 illustrations, soft cover ISBN 978-1-9162134-5-6.