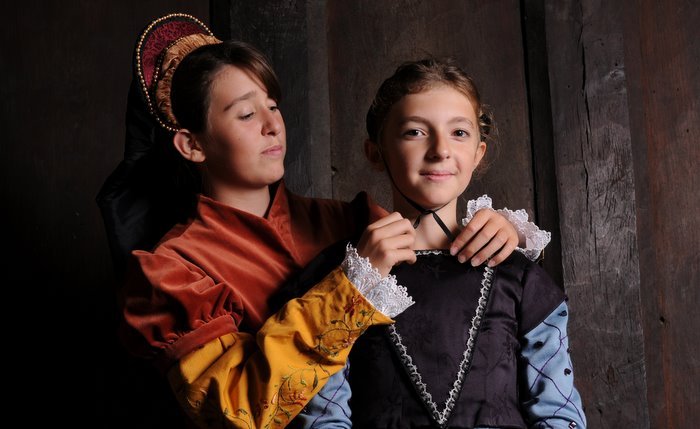 St Nicholas Priory
Adorned with high quality replica furniture and painted in the bright colours of the period, the Priory is presented as the 1602 home of the wealthy Hurst family. The display of Elizabethan items from the city's collection, the addition of modern amenities and new interpretation allow greater access to the Priory and gives a wonderful insight into Tudor life.
St Nicholas Priory was founded in 1087 and was home to Benedictine monks for over 400 years. In 1536, like other monasteries, it was closed and the remains became the home of wealthy Tudor merchants.
The Norman cellar

Dating from around 1100 the cellar was used by the Priory Cellarer for storing bulk provisions. It is dominated by two massive Norman pillars and vaulting which shows an early use of diagonal rib. There was no fireplace in monastic days and no windows in the east wall, as that side was covered by the cloister.

The Tudor Parlour

The Tudor parlour has a stunning original decorated plaster ceiling and newly installed period oak panelling that has been carefully decorated with hand-made paints, accurately recreating a rare original pattern from Tudor Exeter.

The Tudor Kitchen

Rebuilt in the 15th century, the kitchen is now displayed as an Elizabethan kitchen c.1600.

The chamber over the parlour

This room with its fine arch-braced timber roof dates from the 15th century. It is now furnished as an Elizabethan chamber with stunning wall hangings.

Get a feel for Tudor life

In St Nicholas Priory replica furniture can be touched and used. There are costumes to try on and games, toys, stories and other items that give a wonderful insight into Tudor life. Robert the rat is a mischievous character who helps parents and children of pre-school age get the most out of their visit.
Admission & prices
Open on Sundays 1 - 4pm
Free Admission

Booked guided tours for groups of 5 to 20 people at £3 a head
e-mail: enquiries@ehbt.org.uk
Find us
St Nicholas Priory
21 The Mint
Exeter
EX4 3BL
Exeter, DEVON EX4 3BL