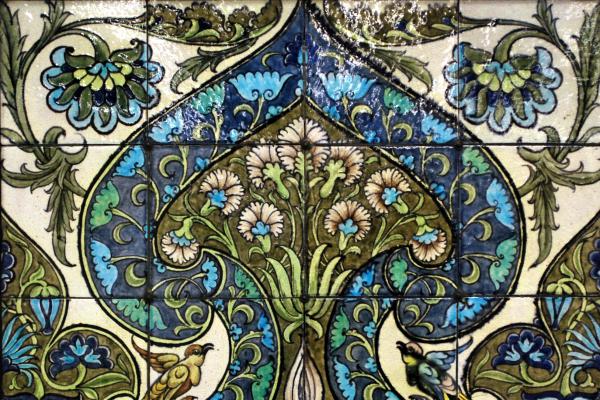 When: 20 May 2023 to 10 September 2023
Where: Royal Albert Memorial Museum and Art Gallery Queen St, Exeter, EX4 3RX
Time: 10:00 - 17:00
Cost: £6
Suitable for: Any age

Sublime Symmetry investigates the use of mathematical principles in De Morgan's beautiful ceramic designs.
Schools and other educational groups wishing to visit this exhibition please book through Sublime Symmetry, Educational group visits.
William De Morgan (1839-1917) was undoubtedly the most intriguing and inventive ceramic designer of the late Victorian period. His conjuring of fantastical beasts and manipulation of meandering flora and fauna fascinated his contemporaries and still captivates today.
During his career, William De Morgan revolutionised the field of ceramic design with his reinvention of lusterware, dedication to exploring Middle Eastern designs, invention and use of his own kilns, and his wonderful patterns.
Through examination of the mathematical devices used in his designs, Sublime Symmetry presents De Morgan as a natural mathematician and talented draughtsman.
This exhibition has been freshly curated for RAMM by Sarah Hardy, Director of the De Morgan Museum, and features objects not previously exhibited as part of the tour. On loan from the Trustees of the De Morgan Foundation.
A 36 page colour catalogue, Sublime Symmetry: the Mathematics behind De Morgan's Ceramic Designs, featuring text by the Exhibition Curator Sarah Hardy and 30 colour images of De Morgan's work, can be purchased for £5.
Special offer: pre-order your copy for just £4 when you book your ticket. Your catalogue will be ready for collection when you visit the exhibition.
Exhibitions & Projects
Earth Spells: Witches of the Anthropocene

Royal Albert Memorial Museum and Art Gallery

11 February 2023 to 07 May 2023

Sue Williamson: Between Memory and Forgetting

The Box, Plymouth

04 February 2023 to 04 June 2023

Hannah Quinlan and Rosie Hastings: Portraits

The Box, Plymouth

04 February 2023 to 04 June 2023

Making a Mark: Dazzling Drawings from the Cottonian Collection

The Box, Plymouth

04 February 2023 to 04 June 2023

Youth Panel: Making Sense

Royal Albert Memorial Museum and Art Gallery

17 January 2023 to 11 June 2023

Coronation Celebration

Royal Albert Memorial Museum and Art Gallery

14 March 2023 to 18 June 2023

Ruth Bell: Calling of the Tide

Royal Albert Memorial Museum and Art Gallery

10 January 2023 to 09 July 2023

What do you collect Lace bobbins

Royal Albert Memorial Museum and Art Gallery

10 January 2023 to 09 July 2023

Gatekeepers to Heaven: Religion, knowledge and power in medieval Exeter

Royal Albert Memorial Museum and Art Gallery

03 June 2023 to 03 September 2023

Sublime Symmetry: The Mathematics behind De Morgan's Ceramic Designs

Royal Albert Memorial Museum and Art Gallery

20 May 2023 to 10 September 2023

The Silver Wave by Michelle Williams Gamaker

Royal Albert Memorial Museum and Art Gallery

20 October 2022 to 08 October 2023

The Great Fire of Crediton

Crediton Area History And Museum Society

19 April 2023 to 28 October 2023

Tea Room Exhibition

Topsham Museum

29 March 2023 to 31 October 2023

Dick Pym the Fisherman Footballer

Topsham Museum

29 March 2023 to 31 October 2023

Votive for the Next Earth by MH Sarkis

Royal Albert Memorial Museum and Art Gallery

02 May 2023 to 19 November 2023

Art Pottery

Royal Albert Memorial Museum and Art Gallery

20 June 2023 to 10 December 2023

The Armada Portrait of Queen Elizabeth I

The Box, Plymouth

11 February 2023 to 07 January 2024

People and Place: Art Collection Showcase

The Box, Plymouth

04 February 2023 to 24 January 2024

Project Buzz

Royal Albert Memorial Museum and Art Gallery

13 June 2023 to 28 January 2024