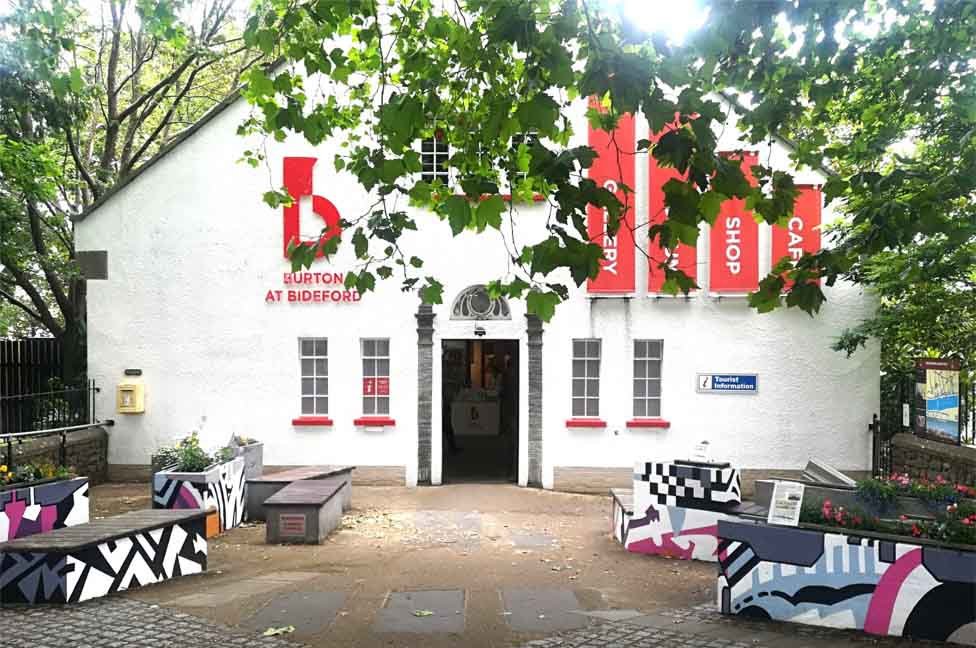 The Burton at Bideford Burton Art Gallery and Museum
The Burton Art Gallery and Museum is over 65 years old. With its friendly team of staff and volunteers, it has been celebrating, exhibiting and nurturing all kinds of artists since being established on 31 October, 1951 by Thomas Burton, a local businessman, and Hubert Coop, a successful artist.
The Burton is a community venue for everyone to love and access freely and has art galleries, a shop, craft gallery, a French bistro café, museum, workshop rooms for hire and is Bideford's tourist information centre.
Collection 1

A view of Bideford from Upcott Hill, showing the launch of the 'Copiapo' in 1862. One of a number of fine oil paintings in the Art Gallery's permanent Collection.

Collection 2

Bone Model Ship of the Brunswick Class, made by French prisoners during the Napoleonic Wars, 1793 - 1815. Constructed of mutton bone, metal, wood and thread from their clothing.

Collection 3

'Appledore Quay' by Hubert Coop, RBA, 1873 - 1953. This painting is one of the bequest to the town of Bideford by this artist, given "proper housing" by Thomas Burton when he built the Gallery in 1951.

Collection 4

Judith Ackland was brought up in Bideford and attended its Art School. She met Mary Stella Edwards in London and together they produced many watercolour paintings which can be seen throughout Britain.

Collection 5

An example from an exhibition "The River Torridge, Source to Sea" by Sheila Hutchinson, painted during the 1940's for the Festival of Britain Exhibition in Bideford Art School in 1951.
Admission & prices
Opening Times:
Monday - Saturday: 10am - 4pm
Sundays': 11am - 4pm


Admission is free.
We do gratefully receive donations.
Find us
Museum news
We have two exciting opportunities for you to join our team here at The Burton at Bideford… Learning and Engagement Manager - 30 hours per week £20,000 - £24,000 per year (pro rata) dependant o......

Are you outgoing? Do you have an interest in art and local heritage? Do you enjoy helping people? If so – the Burton Art Gallery and Museum is looking for volunteers to become Burton Ambassadors and you might be......
Information
The Burton Art Gallery & Museum also incorporates Bideford Tourist Information Centre.
Burton Art Gallery & Museum
Kingsley Road
Bideford
Devon
Bideford
EX39 2QQ

T: 01237 471455
E: info@theburton.org
The Burton at Bideford Burton Art Gallery and Museum
Burton Art Gallery & Museum
Kingsley Road
Bideford
Devon
Bideford, DEVON EX39 2QQ