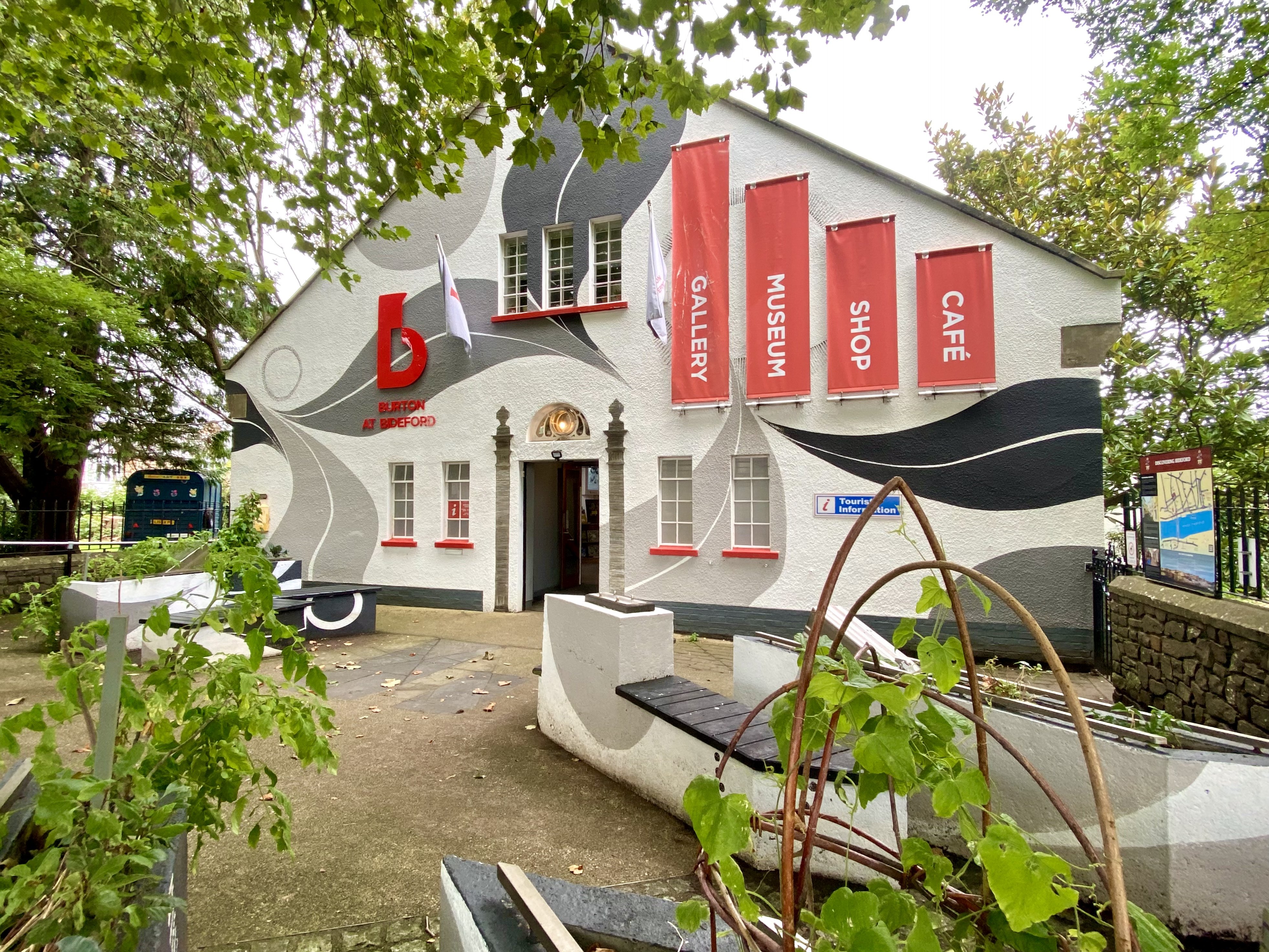 The Burton at Bideford Art Gallery and Museum
Established in 1951, we are a community venue for everyone to love and access freely. The Burton has temporary exhibition spaces, a Museum, Craft Gallery, gift shop, and café.
We are also Bideford's Tourist Information Centre. We are open all year showing exhibitions by internationally renowned artists as well as local and British artists, and local schools. We host residencies and artist-led workshops throughout the year, and take workshops out to more rural communities in the Burton Art Box during the summer season. The Burton is a welcoming and peaceful haven which exhibits relevant, diverse and innovative work that aims to inspire creativity.
Explore works of local interest from our Permament Collection

This painting shows a view of Bideford from Upcott Hill and depicts the launch of the 'Copiapo' in 1862. it is one of a number of fine oil paintings that forms part of the Burton Art Gallery's Permanent Collection.

Explore works of local relevance in our Museum

This model ship of the Brunswick Class was made by French prisoners during the Napoleonic Wars, 1793 - 1815. It is constructed of mutton bone, metal, wood and thread from their clothing.

Explore works from the founding collection of our Permanent Collection

'Appledore Quay' by Hubert Coop, RBA, 1873 - 1953. This painting was bequeathed to the town of Bideford by the artist. It was a given a home by Thomas Burton in 1951 when he established the Burton Art Gallery in the town.

Explore works by Judith Ackland & Mary Stella Edwards from our Permanent Collection

This watercolour is by Judith Ackland, who was brought up in Bideford and attended its Art School. She met fellow artist and life-long companion, Mary Stella Edwards, in London. Both created many watercolours inspired by the coastline around Bucks Mills.

Explore our series of exclusive online exhibitions

An example from an online exhibition 'The River Torridge, Source to Sea' by Sheila Hutchinson, painted during the 1940's for the Festival of Britain Exhibition in Bideford Art School in 1951.
Admission & prices
Opening Times:
Monday - Saturday: 10am - 4pm
Sundays': 11am - 4pm

Admission is free.

As a registered charity, we rely on the kindness of others to help us continue to provide excellent exhibitions, events and facilities. Donations enable us to grow our exhibition and learning programmes, build our collections and develop the technology offered at the Burton.
Find us
Information
The Burton Art Gallery & Museum also incorporates Bideford Tourist Information Centre.
---

Visit our website to view online exhibitions and browse our online shop.

Our online shop features a growing selection of cards, stationery, books, homeware and accessories, gifts and handmade crafts by contemporary British makers.

https://www.burtonartgallery.co.uk/burton-shop/

---
Burton Art Gallery & Museum
Kingsley Road
Bideford
Devon
Bideford
EX39 2QQ

T: 01237 471455
E: info@theburton.org
Exhibitions and Projects

Our videos
Click on the play button below to view our videos
The Burton at Bideford Art Gallery and Museum
Burton Art Gallery & Museum
Kingsley Road
Bideford
Devon
Bideford, DEVON EX39 2QQ