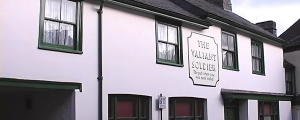 The Valiant Soldier, Buckfastleigh
The Valiant Soldier is an amazing place. It is a pub that closed in the 1960's creating a time warp within its walls.
It had been a village inn for more than two centuries. but when it closed furniture, pub artefacts and domestic items were simply left where they stood as the last customer walked out. All the artefacts and living accommodation date back to the 1940's and 1950's, when nothing was ever thrown away! Visiting the pub is unique. You will experience a living social history as you tour the building
The Lounge Bar

Ladies used the lounge to have a quiet sherry, catch up with local gossip or have a game of cards, in front of a warm fire during the winter.

The Kitchen

Cooking in post-war days.

The parlour

Here remains the original linoleum cover on the floor. A child's toy box displays games played with the family on cosy evenings - no television or computers in those days!

Bedroom

The 'modern' woman wakes to a new day. Hats and dresses in the wardrobe depict the fashion of the mid 1900's

The bar

In 1939 its last landlord, Mark Roberts, became the tenant. In 1965 the brewery decided that there were too many pubs in the town and withdrew the license, so Mr and Mrs Roberts promptly downed tools as the last customers left the premises, leaving everything just as it was - even the change remained in the tills.
Admission & prices
Opening Times for 2013
Wednesday 27th March to end October
Monday, Tuesday, Thursday and Friday from 12.30 to 4.30pm
Wednesday and Saturday from 10.30am to 4.30pm.
We are also open on Bank Holiday weekend Sundays.
Last entry to the Valiant Soldier Museum is at 4.00pm

Charges:
Adults £4.00
Senior Citizens(60+) £3.50
Children £2.
Family ticket (2 adults and up to 2 children £10.00)
Find us
Find us at the bottom of Buckfastleigh's main street. Signposted from Dart Bridge just off the A38 Devon Expressway
Museum news
From the beginning of October we will be carrying out tours by torch light for any group bookings who want to experience something that little bit different......

The Buckfastleigh museum is now fully complete and will re-open on the 27th March......
Information
Wheelchair access is only to the downstairs area of the museum(where the bar is situated) and into the adjoining Information Centre.

Shops, pubs and cafes 5 minutes walk away from The Valiant Soldier
The Valiant Soldier
79/80 Fore Street
Buckfastleigh
TQ11 0BS

T: 01364 644522
E: enquiries@valiantsoldier.org.uk
The Valiant Soldier, Buckfastleigh
The Valiant Soldier
79/80 Fore Street
Buckfastleigh, DEVON TQ11 0BS