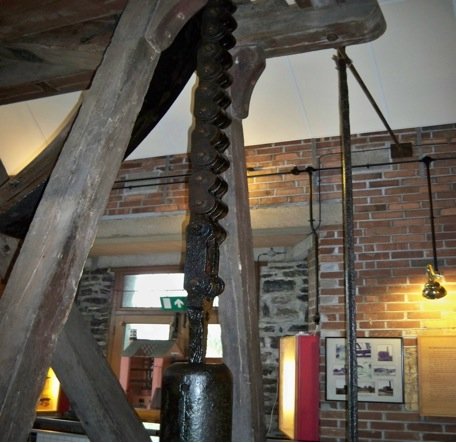 Thomas Newcomen Engine
Thomas Newcomen (1664-1729) designed and installed the first practical and successful steam engine, used initially for pumping water out of coal mines. Over 2000 Newcomen engines were installed world-wide during the 18th and 19th centuries, over 600 of them before 1775 when James Watt was able to improve their efficiency.
The Newcomen engine was a giant step forward in the history of engineering, and led in due course to the Industrial Revolution. The Newcomen Engine House, beside the Tourist Information Centre in Dartmouth, houses an original early Newcomen engine dating from about 1725. It can be seen operating during opening hours of the T.I.C., using a hydraulic mechanism added for demonstration purposes. This engine was first installed at the Griff Colliery near Coventry, and later moved to Oakthorpe Colliery, Measham, and to Hawkesbury Junction where it was used by the Coventry Canal Company from 1821-1913. It was finally moved to Dartmouth in 1963 by the Newcomen Society for demonstration in Newcomen's home town. The 22-inch diameter cylinder and wooden arched beam are believed to be original, with valve gear and a separate 'pickle-pot' condenser added about 1820.
Newcomen Memorial Engine

The Memorial Engine, showing the original arched beam This engine, dating from 1725, is believed to be the only surviving Newcomen engine that can still be seen operating, although not with steam - a hydraulic mechanism allows it to be demonstrated. It was installed in Dartmouth in 1964 to commemorate the 300th Anniversary of Thomas Newcomen's birth.

The First Successful 'Atmospheric' Steam Engine

Diagram of the First Newcomen Engine, by Henry Beighton 1717. The first successful steam engine was installed in 1712 at Coneygree Coal Works near Dudley Castle in Staffordshire. It worked at 12 strokes per minute and had 5.5 horse-power, raising 10 gallons of water from a depth of 150 feeet at each stroke.

Principle of the Newcomen Engine

Diagram by kind permission of Clive Lusby, Markham Grange Steam Museum. The open-ended brass cylinder is mounted directly above a boiler. Steam is allowed into the cylinder by a valve, and then condensed by a cold water jet fed into the cylinder. The piston is forced down by the atmospheric pressure above. This movement is transmitted to the mine by a rocking wooden beam connected to the piston and vertical rod operating the mine pump by chains. The steam pressure is kept low to avoid leakage.

Thomas Newcomen the Inventor

The map shows locations of the Newcomen family in Dartmouth. Thomas Newcomen was an ironmonger and blacksmith, born in Foss Street, Dartmouth. His family were staunch Baptists, and Thomas himself became a pastor of the Dartmouth Baptists in 1710. After marrying in 1705 he leased a house and workshop in Higher St. and started to experiment with a steam engine.

Newcomen's House and Memorials

The drawing shows Newcomen's house in Lower St. about 1860, before it was demolished to make way for Newcomen Road. For nearly 140 years after his death there was no recognition of Thomas or his great invention, until in 1868 a local builder Thomas Lidstone built Newcomen Cottage in Ridge Hill and used some of the fittings from Newcomen's house in his Cottage. The first Memorial was erected in the Royal Avenue Gardens in 1921.
Admission & prices
Entry to the museum is free.

Opening hours:
Summer 10.00am - 5.00 pm Monday to Saturday, 10.00am-2.00pm Sunday.

Winter 10.00am - 4.30 pm weekdays except Wednesday 10.00-1.00pm.
Find us
Museum news
Celebration Week: 9-14 July......
Information
Toilets are available in the Royal Avenue Gardens nearby.
Thomas Newcomen Engine
The Engine House
Mayors Avenue
Dartmouth
TQ6 9YY

T: 01803 834224
E: holidays@discoverdartmouth.com
Thomas Newcomen Engine
Thomas Newcomen Engine
The Engine House
Mayors Avenue
Dartmouth, DEVON TQ6 9YY