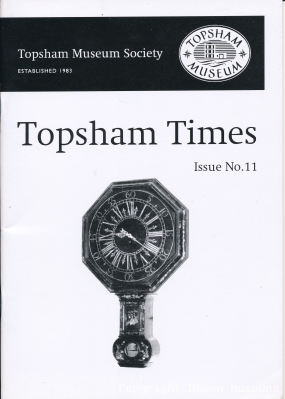 Topsham Times, Issue 11, 2008
Price: £1.00
Stock: 18 available
Topsham Times is the Journal of the Topsham Museum Society.
Index: Extension to the Museum (an architect's view), Pytte House Clyst St. George, Timber Kilns of Topsham, Where was Topsham Bar?, Trading through Topsham.
You might also be interested in?
Salmon Fishing on the Exe

£2.50

A booklet documenting the history of salmon fishing on the River Exe and the local families who were involved, some to this day.

W Trout and Son, The First Century

£1.50

A booklet commemorating the centenary of the fonding of Topsham's Trouts' boatbuilding firm, including the Trout family history.