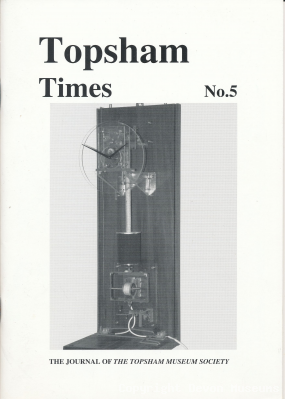 Topsham Times, Issue 5, 2002
Price: £2.50
Stock: Currently out of Stock
Topsham Times is the Journal of the Topsham Museum Society.

Index: W. Trout & Sons (100 yrs in business), The Goatwalk, Dispute between John Owen and Capt. John Holman, Dutch tiles, Topsham to Compostella (Pilgrims and Pirates), The Tobacco tin, Legacy of the Holman family.

THIS EDITION IS OUT OF PRINT but pdf copies may be available on request. Please enquire.
You might also be interested in?
The Early Families of 25, Strand

£2.50

A history of the home of Topsham Museum - the development of the building, the stories of the families who lived there and its place in the history of Topsham.

Topsham , An account of its streets and buildings

£9.50

Out of stock currently but will be reprinted in 2019.