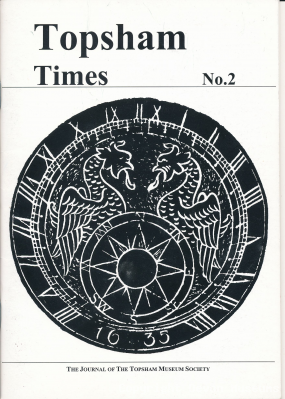 Topsham Times Issue 2, 1999
Price: £2.50
Stock: Currently out of Stock
Topsham Times is the Journal of Topsham Museum Society.
Index: Extract from Descripton of the Citie of Excester, 1584, Model of the brig "Guide", Well Oiled, Early days of the Topsham Fire Brigade, Three generations of the Gould family, Schooldays in Topsha, Estuary Management, Heritage of the River Exe, Wallpaper project in Museum bedroom.

UNFORTUNATELY THIS ISSUE IS OUT OF PRINT BUT MAY BE AVAILABLE ELECTRONICALLY, PLEASE ENQUIRE
You might also be interested in?
HMS Terror: A Topsham Ship

£2.50

The story of the ill-fated expedition to the North West Passage and the Topsham built ship, the HMS Terror.

Dorothy Holman , A Life

£3.50

A biography of Dorothy Holman, who began Topsham Museum and in whose home on the Strand the Museum is now based.