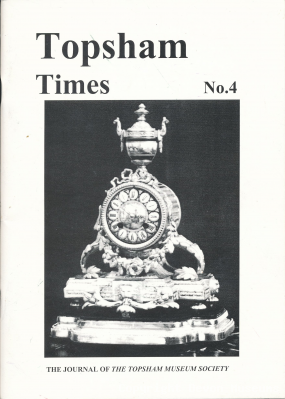 Topsham Times Issue 4, 2001
Price: £2.50
Stock: Currently out of Stock
Topsham Times is the Journal of the Topsham Museum Society.
Index: Rebuilding of Lady Seward School, Whats in a name? (a letter from Downunder), Hugeneot Story, Topsham Artists, Limeburning in Exeter and Exe Estuary parishes, Topsham & Dawlish Warren - memories of 100 years ago.

Not available.

THIS ISSUE IS OUT OF PRINT BUT ARTICLES MAY BE AVAILABLE ELECRONICALLY, PLEASE ENQUIRE
You might also be interested in?
Cygnet , the Story of a Boat

£1.00

The story and photographs of the iconic Cygnet at Topsham Museum and its creator, Captain Peacock.

W Trout and Son, The First Century

£1.50

A booklet commemorating the centenary of the fonding of Topsham's Trouts' boatbuilding firm, including the Trout family history.