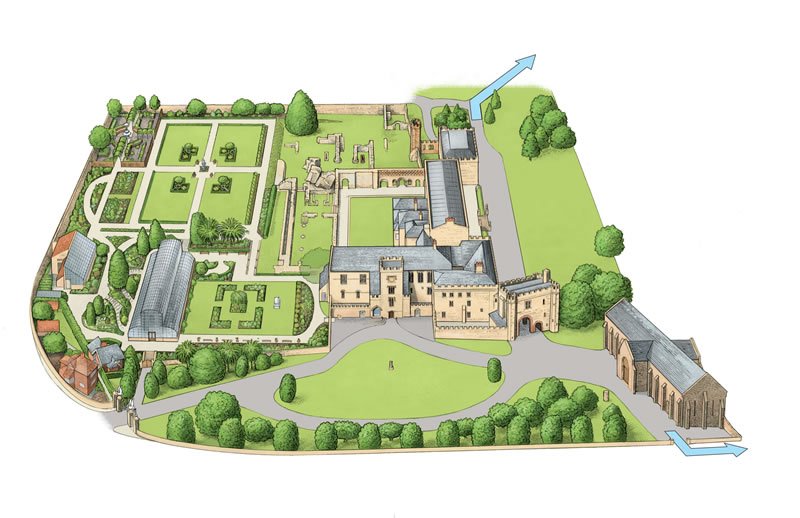 Torre Abbey
Since its foundation in 1196, Torre Abbey has witnessed, survived and even played a role in some epic moments of history. It's one of the best buildings in the country for the story of Catholicism.
A historic house brought to life with a clever mix of authentic artefacts with hi-tech interpretation. From talking portraits and statues to interactive displays and one of the largest fine art collections in the South West, there really is something for everyone. Tranquil walled gardens with a wealth of exotic plants are a haven of beauty and pleasure, the perfect setting in which to relax, stroll or picnic. Explorer backpacks help families discover the gardens' hidden gems.
800 years collection

Time machine, talking heads, interactive models explore the history of Torre Abbey, Torquay and Torbay.

Art galleries collections

Dartmoor, call of the sea, Artist at work, Seaside Fun galleries amongst others are embellished with changing displays, period rooms and a visible art store.

Family & Faith collection

Unique story of Catholicism embellished by a catholic chapel built prior to the relief act.

Ruins & Archaeology collection

Interpreted ruins, monastic tiles, archaeological finds

Frederick Thrupp collection

This unique collection of plaster reliefs, busts, statues and bronzes once formed part of the contents of the studio of the Victorian sculptor Frederick Thrupp (1812 - 1895). Viewed as a whole, the Thrupp collection in Torre Abbey is the largest surviving collection from a Victorian sculptor's studio. The collection's dramatic backdrop of a verdant cemetery echoes the religious setting in which much of the sculptor's work is found and for which he was famed.
Admission & prices
Open 7 days a week 10am - 5pm.

Adults £8.00
Concessions £7.00
Under 18s go free!!
Gardens Only £2.50
Garden Concession £2.00

Schools (Self-led Session) Children go free.
Schools (led seesions/workshops) will incur a small fee. Please Pre-book.

Adult groups £6.00 per person

Adult season ticket £16.00
Concession season ticket £15.00
Garden Season Ticket £9.00


- See more at: http://www.torre-abbey.org.uk/visit/prices-openingtimes#sthash.P2784vvM.dpu


Not enough time to get around it all? Wet weather halts your exploration of the gardens? Torre Abbey offers a second day free if you retain your receipt.

How to find us;
Follow signs for Torquay A380, then Torquay Seafront A3022. You will arrive at a traffic light junction with the Swan gates to Torre Abbey ahead of you. Take the 2nd exit on the left to Chestnut Avenue for parking at the Riviera International Centre. Additional parking is a right turn from this same junction in Torre Valley car park on Walnut Road.
Find us
5 minutes walk from Torquay train station, 5 minutes walk from Torquay sea front and 10 minutes walk from the harbour. Torre Abbeys main entrance is off the main road into Torquay (Avenue road), with its car park on Chestnut avenue.
Information
Torre Abbey's recent restoration has fully facilitated the historic house & gardens. Incorporation of a central lift and two additional platform lifts makes the building 95% accessable for all.
Too much to see? Come back the following day free.
Shop and Tearooms;
Torre Abbey Tearooms are open 7 days a week and can be accessed without entering the museum/historic house & gardens. Situated on the south facade of Torre Abbey the tearooms boast a fabulous view. Fantastic coffee and an assortment of light meals and cakes are a signature of this quiet haven.

Torre Abbey shop is situated within Torre Abbey's main entrance on the West range. In its monastic cloister setting it houses a range of gifts and souvenirs.

Weddings and functions;
Our Ballroom, Undercroft, Spanish Barn and Palm House are all licensed for civil weddings, partnership ceremonies and christenings.
Torre Abbey can also cater for functions, corporate hospitality or training events.

Education;
Following the recent restoration project, Torre Abbey now boasts an education suite.
Torre Abbey,
The King's Drive,
Torquay
TQ2 5JE

T: 01803 293593
E: torreabbeyenquiries@torbay.gov.uk
Torre Abbey
Torre Abbey,
The King's Drive,
Torquay, DEVON TQ2 5JE