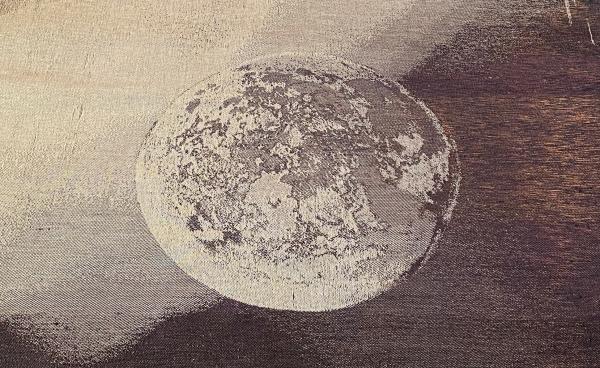 Votive for the Next Earth by MH Sarkis
When: 02 May 2023 to 19 November 2023
Where: Royal Albert Memorial Museum and Art Gallery Queen St, Exeter, EX4 3RX
Time: 10:00 - 17:00
Cost: Free
Suitable for: Any age

Installation of this work has been delayed, apologies for any inconvenience
Artist MH Sarkis was inspired by textiles in RAMM's collections to create this new interactive, woven hanging. Describing the museum's objects' 'fragmented and salvaged appearance' as well as specific items' 'importance to burial and mourning rituals' (such as the Tahitian mourning costume displayed in the World Cultures gallery), she has created a new artwork that responds to visitors' footsteps.
Sarkis's own cultural heritage as the daughter of Lebanese parents growing up in Nigeria before returning to study art in the city of her birth, London, provides a unique, personal viewpoint on the museum's varied collections that belong to cultures from across the world.
Sarkis considers a museum 'as a place for remembering and preserving the past – a contemplative mourning of a time no longer present'. This RAMM commission speculates on a future scenario where our climate and ecological emergencies encourage a search for a new habitable planet. 'Votive for the Next Earth' is also an offering given in exchange for the new planet to its god. Sarkis says, 'In this way, the scientific progress we make in the future functions in tandem with the human desire for ritual and belief in a higher being, especially in moments of strife and grief'.
The new textile was handwoven using a digital Jacquard loom at Goldsmiths, University of London, where Sarkis underwent a fellowship. It incorporates interactive sensors that trigger tektite beads to drop rhythmically. The sensors record data such as ground vibrations providing immediate, reactive feedback to movements nearby.
supported by Arts Council England
Royal Albert Memorial Museum and Art Gallery Exhibitions & Projects
The Silver Wave by Michelle Williams Gamaker

Royal Albert Memorial Museum and Art Gallery

20 October 2022 to 08 October 2023

Votive for the Next Earth by MH Sarkis

Royal Albert Memorial Museum and Art Gallery

02 May 2023 to 19 November 2023

Art Pottery

Royal Albert Memorial Museum and Art Gallery

20 June 2023 to 10 December 2023

Hollow Earth: Art, Caves and the Subterranean Imaginary

Royal Albert Memorial Museum and Art Gallery

23 September 2023 to 07 January 2024

Project Buzz

Royal Albert Memorial Museum and Art Gallery

13 June 2023 to 28 January 2024