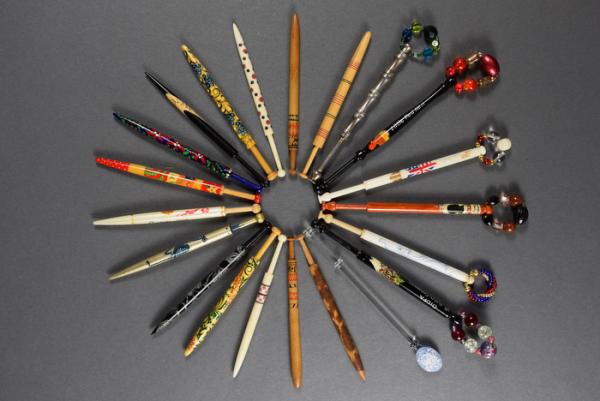 When: 10 January 2023 to 09 July 2023
Where: Royal Albert Memorial Museum and Art Gallery Queen St, Exeter, EX4 3RX
Time: 10:00 - 17:00
Cost: Free
Suitable for: Any age

This fascinating collection of decorated lace bobbins from all over the world numbers over two thousand in total. Our collector Carol has been volunteering at RAMM and teaching lace-making for many years. Carol was president of the World Lace Organisation and has written four books on the history of Devon lace.
Exhibitions & Projects
Youth Panel: Making Sense

Royal Albert Memorial Museum and Art Gallery

17 January 2023 to 11 June 2023

May The Toys Be With You

Torquay Museum

25 March 2023 to 17 June 2023

Coronation Celebration

Royal Albert Memorial Museum and Art Gallery

14 March 2023 to 18 June 2023

A look at Higher Brook Street in the 19th Century

Teign Heritage Centre Home to Teignmouth and Shaldon Museum

10 May 2023 to 27 June 2023

Ruth Bell: Calling of the Tide

Royal Albert Memorial Museum and Art Gallery

10 January 2023 to 09 July 2023

What do you collect Lace bobbins

Royal Albert Memorial Museum and Art Gallery

10 January 2023 to 09 July 2023

Gatekeepers to Heaven: Religion, knowledge and power in medieval Exeter

Royal Albert Memorial Museum and Art Gallery

03 June 2023 to 03 September 2023

Sublime Symmetry: The Mathematics behind De Morgan's Ceramic Designs

Royal Albert Memorial Museum and Art Gallery

20 May 2023 to 10 September 2023

Rana Begum: Dappled Light

The Box, Plymouth

24 June 2023 to 24 September 2023

Six Legged Superheroes: Insects Saving the Planet

Torquay Museum

27 May 2023 to 07 October 2023

The Silver Wave by Michelle Williams Gamaker

Royal Albert Memorial Museum and Art Gallery

20 October 2022 to 08 October 2023

The Great Fire of Crediton

Crediton Area History And Museum Society

19 April 2023 to 28 October 2023

Reframing Reynolds: A Celebration

The Box, Plymouth

24 June 2023 to 29 October 2023

Tea Room Exhibition

Topsham Museum

29 March 2023 to 31 October 2023

Dick Pym the Fisherman Footballer

Topsham Museum

29 March 2023 to 31 October 2023

Votive for the Next Earth by MH Sarkis

Royal Albert Memorial Museum and Art Gallery

02 May 2023 to 19 November 2023

Art Pottery

Royal Albert Memorial Museum and Art Gallery

20 June 2023 to 10 December 2023

The Armada Portrait of Queen Elizabeth I

The Box, Plymouth

11 February 2023 to 07 January 2024

People and Place: Art Collection Showcase

The Box, Plymouth

04 February 2023 to 24 January 2024

Project Buzz

Royal Albert Memorial Museum and Art Gallery

13 June 2023 to 28 January 2024

The Museum is delighted to announce that a collection of Shaldon handmade lace over 100 years old has been acquired

Teign Heritage Centre Home to Teignmouth and Shaldon Museum

09 May 2023 to 09 May 2024