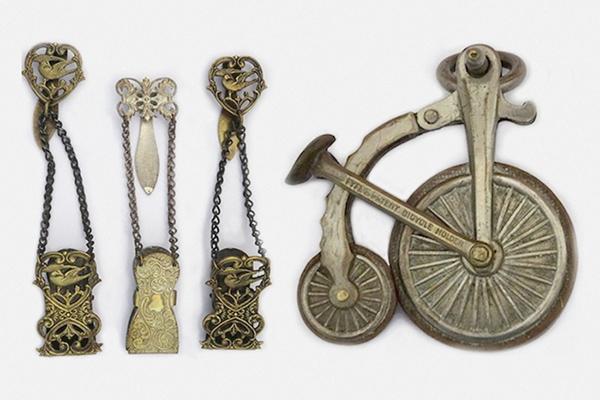 When: 02 October 2018 to 06 January 2019
Where: Finders Keepers? Gallery
Time: 10am - 5pm
Suitable for: Any age

Selected from a personal collection of 160 skirt lifters spanning three centuries, these objects combine the decorative tastes of the day with a functional solution to the problems posed by voluminous skirts. See jewelled and art nouveau pieces as well as complicated patented metal lifters.
Display your collection
Do you have a collection that you would like to exhibit? We would be love to hear from anyone who has a collection that could fill the case at RAMM, email: ramm@exeter.gov.uk
Exhibitions & Projects
Around the World

Tiverton Museum of Mid Devon Life

24 January 2019 to 31 August 2019

D Day 75: The Story of Operation Overlord in South Devon

Torquay Museum

02 July 2019 to 31 August 2019

Ipplepen: New Discoveries on the Edge of the Roman Empire

Torquay Museum

16 March 2019 to 07 September 2019

Bare Bones

Torquay Museum

25 May 2019 to 08 September 2019

TEIGNMOUTH'S RAILWAY: Yesterday, today and tomorrow

Teign Heritage Centre Home to Teignmouth and Shaldon Museum

16 July 2019 to 22 September 2019

Nomads: Homes on the Move

Royal Albert Memorial Museum and Art Gallery

13 July 2019 to 06 October 2019

Crediton Station: A Brief Encounter

Crediton Area History And Museum Society

10 April 2019 to 26 October 2019

Countess Wear Paper Mill

Topsham Museum

30 March 2019 to 31 October 2019

Views of Old Countess Wear

Topsham Museum

31 March 2019 to 31 October 2019

Fairground Art

Dingles Fairground Heritage Centre

16 February 2019 to 02 November 2019

Birds without Borders

Royal Albert Memorial Museum and Art Gallery

20 July 2019 to 03 November 2019

Martha, Mesmeric subject An installation by Amy Goodwin

22 June 2019 to 03 November 2019

ECFC A to Z of Players

Exeter City Football Club Museum

01 January 2019 to 31 December 2019

History of St James Park Project

Exeter City Football Club Museum

01 January 2019 to 31 December 2019

ECFC Museum Project

Exeter City Football Club Museum

01 January 2019 to 31 December 2019

Exeter's Fine Art Collection: A Sense of Place

Royal Albert Memorial Museum and Art Gallery

18 June 2019 to 15 March 2020