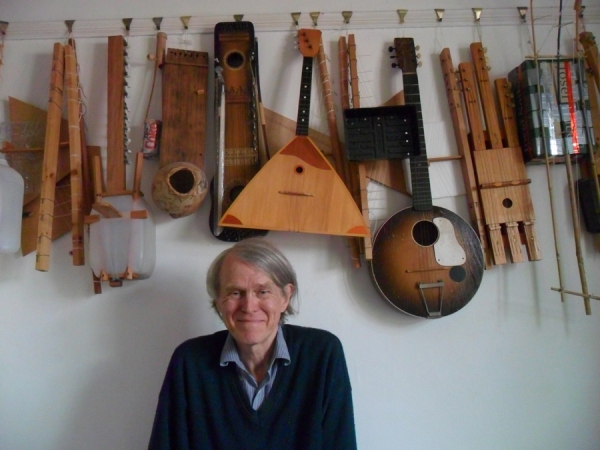 'Made to be Played' Gets Arts Council Funding
By: Barry Chandler
Added: 22 September 2021
In August the Museum received grant funding from Arts Council England to create a project focusing on musical instruments. 'Made to be Played' will include a new interactive exhibition of instruments from various eras and cultures from both our own collections and those of Exhibition Curator Ian Summers. Through it we hope to engage a diverse audience in making, playing and appreciating musical instruments.
The project idea came from Ian Summers a retired academic (previously Head of Medical Imaging at the University of Exeter) who has collected and made musical instruments for the past 50 years. I asked Ian where his passion for musical instruments came from?
"I'm not sure exactly how it started – I can remember, as a five-year-old, asking for a Christmas present of a toy accordion I'd seen in a shop window. When I was nine I was lucky enough to be offered free violin lessons at school, with a free instrument. As a 14-year-old in the 1960s, I built a simple guitar so I could play pop songs – in those days there was more of a "make do and mend" attitude, and it seemed an obvious idea to make an instrument rather than buy one."
Ian first made contact with the Museum a few years ago to come and study some of our remarkable instruments in storage. "In 1990 I bought a book "Musical Instruments Collections in the British Isles", which mentioned some instruments in Torquay Museum. However, it wasn't until 2017 that I was able to visit Torquay Museum to see its instruments – many of them not on display but in store. The collection includes some beautiful wind instruments from the 18th and 19th centuries – flutes, oboes, a clarinet and a trumpet with keys (not valves like a modern trumpet). However, my personal favourite is an autoharp (a type of zither), fitted with a special device to help with tuning its many strings (before the days of electronic tuners)".
Ian and the Museum hope to generate interest in the world of music through the display and engagement with our combined collections. Ian commented "I hope to share my interest in the enormous variety of musical instruments that exists beyond the "regular" instruments that are usually encountered. I also hope to show that anyone can have a go – the enjoyment of making/playing an instrument is not just for the specialist." The project, co-curated with Sophie Yarde-Buller from Exeter, will include an exhibition planned for Spring 2022, there will also be online articles and stories on our social media channels. People will be able to come and listen to a range of musical styles during a series of events and performances or have a go at making their own instrument. There will even be a newly commissioned piece of music inspired by the collections.