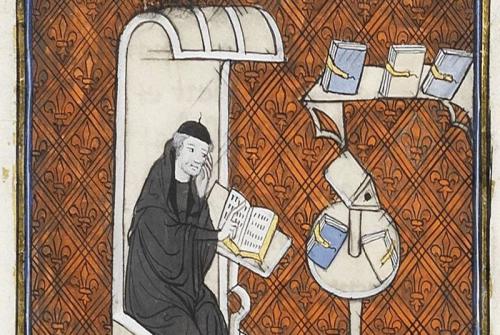 08 June 2023
08 June 2023
When: 08 June 2023
Where: Royal Albert Memorial Museum and Art Gallery Queen St, Exeter, EX4 3RX
Time: 14:30 - 15:30
Cost: £8.50/Friends £6.50
Suitable for: Any age

Join Matthew Haley, books and manuscripts specialist for Bonhams and BBC's Antiques Roadshow, for this insightful talk linked with the Bodleian Library's manuscripts featured in RAMM's exhibition Gatekeepers to Heaven: religion, knowledge and power in medieval Exeter.
This talk will cover a light history of the role of auctioneers, dealers and collectors in their preservation, and give insights into the commercial market for medieval manuscripts.
Matthew is managing director of Bonhams Knightsbridge and head of Bonhams UK books and manuscripts department. In his time as an auctioneer he has sold the 1494 edition of Columbus' letter on the discovery of America and the sledge from Ernest Shackleton's 1909 Antarctic expedition.
A recent Bonhams auction of a French c1390 illuminated manuscript leaf, 'Pierre Bersuire reading', fetched £15,900.
Images:
Matthew Haley
'Pierre Bersuire reading': illuminated manuscript leaf, Paris c1390
Upcoming events
11 August 2023 to 14 December 2023

The Box, Plymouth

21 December 2023

Exmouth Museum and Heritage Centre registered charity 291311

21 July 2023 to 22 December 2023

The Box, Plymouth

18 January 2024

Exmouth Museum and Heritage Centre registered charity 291311

24 January 2024

Royal Albert Memorial Museum and Art Gallery

16 February 2024

Royal Albert Memorial Museum and Art Gallery

21 February 2024

Royal Albert Memorial Museum and Art Gallery

08 March 2024

Royal Albert Memorial Museum and Art Gallery

09 March 2024

Royal Albert Memorial Museum and Art Gallery