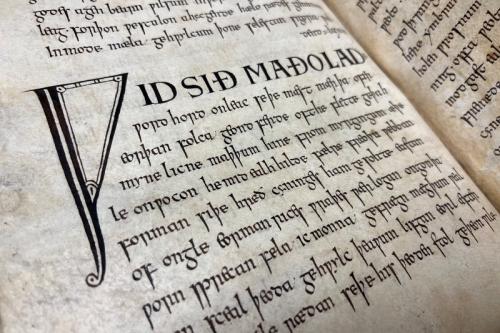 01 June 2023
01 June 2023
When: 01 June 2023
Where: Royal Albert Memorial Museum and Art Gallery Queen St, Exeter, EX4 3RX
Time: 15:15 - 16:15
Cost: £8.50/Friends £6.50
Suitable for: Any age

Join Emma Laws, Librarian at Exeter Cathedral, to hear the extraordinary story of how medieval manuscripts from the Library at Exeter Cathedral were transferred to Oxford to establish one of the world's greatest libraries – the Bodleian Library.
In 1602, the Dean and Chapter of Exeter Cathedral donated nearly 100 medieval manuscripts to the Bodleian Library – it was the largest of the Bodleian's founding donations. Sir Thomas Bodley set about building the library in 1598 and persuaded friends and associates to donate books and manuscripts to his cause. His brother Laurence, a Canon at Exeter Cathedral, probably paved the way for the transfer of manuscripts from the Cathedral Library, including some dating from as early as the 9th century.
For over 400 years, the Bodleian has been home to some of Exeter Cathedral's most important medieval manuscripts, including several originally donated to the Cathedral by book-loving bishops, Leofric (1050-1072) and John Grandisson (1327-1369). Of the 66 books given to the Cathedral by Leofric only the Exeter Book remains, but the legacy of Exeter's magnificent medieval library lives on through the shared history and collections of the Cathedral and the Bodleian.
This talk will be taking place after the RAMM Friends AGM which is due to take place at 2pm.
Upcoming events
11 August 2023 to 14 December 2023

The Box, Plymouth

21 December 2023

Exmouth Museum and Heritage Centre registered charity 291311

21 July 2023 to 22 December 2023

The Box, Plymouth

18 January 2024

Exmouth Museum and Heritage Centre registered charity 291311

24 January 2024

Royal Albert Memorial Museum and Art Gallery

16 February 2024

Royal Albert Memorial Museum and Art Gallery

21 February 2024

Royal Albert Memorial Museum and Art Gallery

08 March 2024

Royal Albert Memorial Museum and Art Gallery

09 March 2024

Royal Albert Memorial Museum and Art Gallery