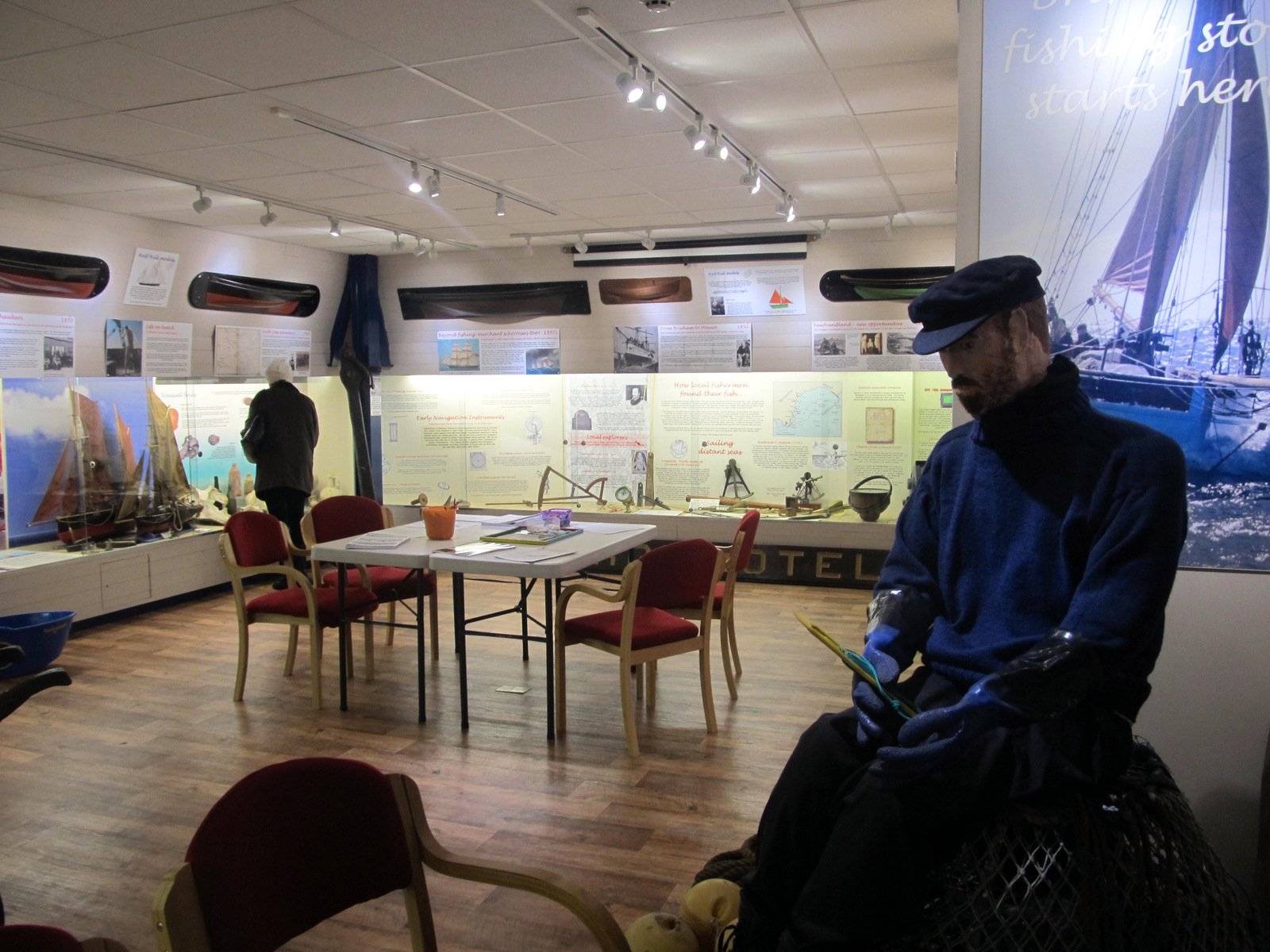 Brixham Heritage Museum
The Brixham Heritage Museum and History Society was founded in 1958 for the purpose of recording, saving and displaying the heritage of the historic town and fishing port. Since 1976, the Museum has been located in what was once the Police Station and Sergeant's House, built 1902.
Maritime

Models of a Brixham Trawlers, with a large collection of shipwright's tools, fishing & navigation equipment.

Brixham Caverns and Ice Age Animals

On display a collection of ice age animal bones and prehistoric pottery and tools from three Brixham cave sites.

Military artefacts

Collection of excavated military artefacts from the Napoleonic-era forts at Berry Head (Torbay) these include shako plates (pictured) and over 600 regimental buttons.

WW2 Airman's Mascot "Radar rat"

Collection of WW1 & WW2 uniforms and artifacts, which include "Radar Rat" attired as a corporal in a WAAF (Women's Auxilliary Air Force) WW2 uniform.

Belgian school in Brixham during WW2

We have over 3000 photographic images which include the fishing fleet, the town and the people of Brixham from the 1880s to modern times.
Admission & prices
Opening Times

Main Season Opening:
Easter to 30th October
Tues-Fri: 10.00-4:00
Sat: 10.00-1.00
Sun: Closed



Admission Charges:
Free admission - donations welcomed
Find us
Museum news
The results of post-excavation analyses on an assemblage of fish bones from late 18th/early 19th century military refuse within the Berry Head Forts (Torbay)have just been published in Post-Medieval Archaeology 46/1 (201......

Brixham Heritage Museum was pleased to have been selected in the top six placements for the Family Friendly Museum Award by readers of the Sunday Telegraph newspaper......
Information
Accessibility:
Guide dogs and other well behaved dogs are welcome.

There are toilet facilities for disbled visitors.

There is a ramp at the main entrance and ramps throughout the ground floor.
Brixham Heritage Museum
The Old Police Station
Bolton Cross
Brixham
TQ5 8LZ

T: 01803-856267
E: mail@brixhamheritage.org.uk
Brixham Heritage Museum
Brixham Heritage Museum
The Old Police Station
Bolton Cross
Brixham, DEVON TQ5 8LZ